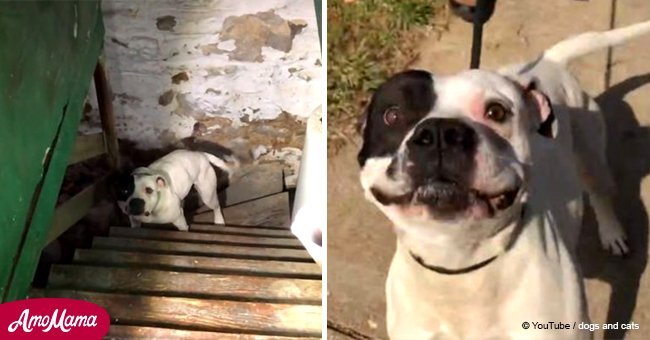 Man just moved into his new home. But he was dumbfounded finding a dog left in the basement
A dog was abandoned in the basement of a house.
Metro reported that the dog was chained up by someone who was previously living in the house.
When a man moved into his new home, he did not expect to find a dog in the basement.
Jumping Bean was left behind in the basement and had no food or water. She was chained up in her own excrement by someone who lived their earlier.
The previous owner is thought to be a squatter.
When the unnamed man moved in, he found mounds of rubbish left on the floor.
The man immediately called Stray Rescue of St Louis, Missouri, after seeing the dog left in the dark room. He asked for help from the department which responded in no time.
The man said that he had just bought the house and found a pit bull chained up in the basement and said he had no idea how long it has been down there.
Natalie Thomson, the group's communications director, said, "When we opened the door to the basement and shined our flashlight down, we saw a wagging tail."
The little dog was overcome with happiness upon seeing humans and instantly knew she would be rescued.
The team found her ecstatic and was "nearly choking herself." When she was freed, she could not stop jumping up and down and giving the team hugs.
Nobody knew who left the dog behind or why, but it was clear she would not have survived for long. The team did not find food or water bowls either.
However, she has an uncontainable zest for life and an eagerness to be loved. Thomson said that Jumping Bean's personality was "completely adorable." She makes sure she is not ignored and is an energetic and affectionate dog.
The rescuers named the dog Jumping Bean after seeing the excitement. They took her to the shelter where she would wait for a new home.
Please fill in your e-mail so we can share with you our top stories!