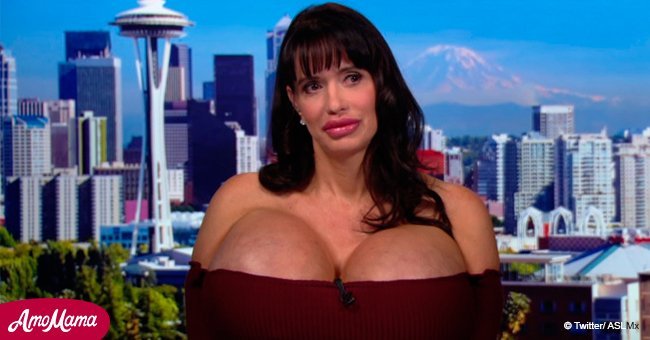 Woman has 'tap' attached to her body to support her 7,344CC sized breasts

It is common to find people who claim to be obsessed with something. Mary, Dolly, and Lilly took it to the next level.
The three of them were interviewed by Phillip Schofield on This Morning for the size of their breasts. They have undergone several procedures to have them as big as they can be and, so far, they are still not happy.
As Metro reported, Schofield asked Dolly why she began thinking of breast enlargement procedures and she revealed that, despite the fact she was at C cup already, she wanted 'bigger boobs.'
The host pointed out that C cup was already big, but Dolly said that she is obsessed with having huge breasts even more than men can be. She likes the attention she gets with them despite the fact they are not real.
Dolly and a second guest confessed to having an 'expander' in them so they can get them 'topped up' easier. She explained that it is better than surgeries as they don't need anesthesia or to go under the knife.
One of the best aspects of it is that they can get back to their surgeons once a month to get them expanded little by little until they reach the size they want. Dolly pointed out that it is safer than regular procedures.
When asked about her husband and what he thinks about the surgeries, she admitted that he supports her but also tells her that the first thing she should take into consideration is her health.
Lilly, a labor and delivery nurse, confessed that her breasts are 7,344 CC each and that she has some kind of 'port' on each side of her body that works as a tap to fill up her breasts.
She pointed out that even though her breasts are big already, she is still not happy with her size and that she doesn't really have a goal.
'I have never had a goal in mind I just like the look of them, and I like them bigger. So I just haven't found the level I'm happy with yet.'
Lilly, Metro, March 26, 2018.
Please fill in your e-mail so we can share with you our top stories!