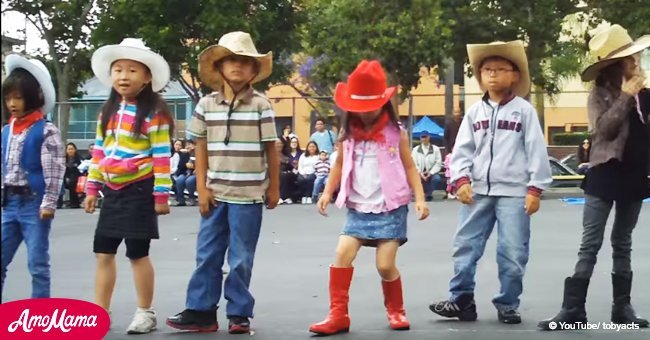 Tiny cowboys and cowgirls perform cute-as-can-be line dance to 'Achy Breaky Heart'
Adorable children dancing to the beat of a classic tune makes one viral video.
A group of first graders performed a line dance for their school and it received so much attention online.
A first grade class from Rosewood Elementary performed in front of their schoolmates and their parents.
Country Music Nation shared the viral video where the little tots can be seen wearing cowboy hats, bandanas, and boots.
The group of kids stood together side by side as they were about to perform a special line dance.
Billy Ray Cyrus' famous song entitled Achy Breaky Heart played in the background and the group of kids started to tap their boots.
From boot tapping, the kids transitioned into doing a grapevine spin move and they all just looked too adorable.
At one point, one student fell after doing a jumping-backward maneuver but she did not let it stop her. She stood back up, smiled, and continued dancing. The crowd cheered her on.
Although all the kids were doing a great job, there was one girl who seemingly became the star of the show.
The girl in the center who was wearing a red cowboy hat and boots stole the show as she performed confidently in front of the crowd. She can even be seen counting out the beats to help her classmates.
These kids may not have been around when the song Achy Breaky Heart was first heard on the radio, but surely, they knew how to dance to the classic country beat.
Achy Breaky Heart was written by Don Von Tress. It was originally performed by The Marcy Brothers in 1991 and was entitled Don't Tell My Heart.
Later on, in 1992, it was changed to its current title and was performed by Billy Ray Cyrus.
The song became his debut single and it also became his trademark hit.
Please fill in your e-mail so we can share with you our top stories!