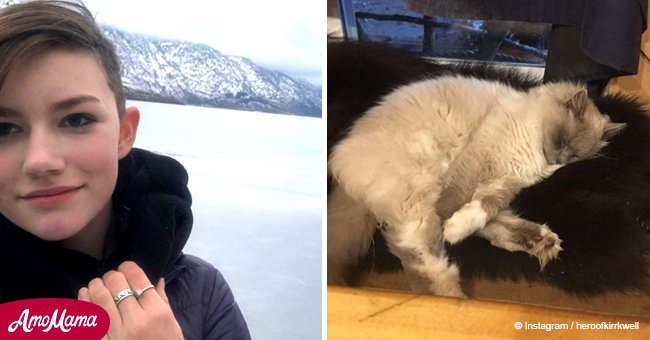 'Alaskan Bush' family mourns the sudden death of their beloved cat
Although the loss of any animal companion might be really painful for most people, the ones who suffer the most when this happens are children and teenagers.
Alaskan Bush People family lost their beloved cat recently, and while the whole family was in pain for it, the youngest of them all was the one most vocal about it.
According to Radar Online, the show's youngest star, Rain Brown, announced the sudden death of this family member on Tuesday, March 27, 2018.
The 15-year-old Discovery star admitted that she was with her cat, named Chipmunk Cheeks, right before the sudden tragedy on her Instagram page.
The girl posted a picture of the cat sleeping with a gigantic caption about it, as she seems devastated by the issue.
The 15-year-old goes a long way when she thanked the cat for its time, its love, and even all those times it mistook her bed for the litter box in the same post's caption.
'We rarely get to say goodbye to our loved ones before they go, but I'm glad I got to pet and hold you one last time before I opened the door to let you into heaven,' she wrote.
The same outlet also revealed that Rain told a fan, through an Instagram comment, that the cat died ran over by a car.
In the same post's caption, Rain also wrote that she feels the cat 'protecting her' and cheering her up. 'I know you're still with me protecting me, and loving me when I'm sad,' she added in her tribute.
According to Radar, the teenager must have been referring to her 'ongoing battle with depression,' claiming that it got worse after her mom, Ami Brown, was diagnosed with cancer last year.
It seems like this comes just after heartbreaking news that matriarch Ami was spotted in a wheelchair earlier this month got to the media.
Please fill in your e-mail so we can share with you our top stories!