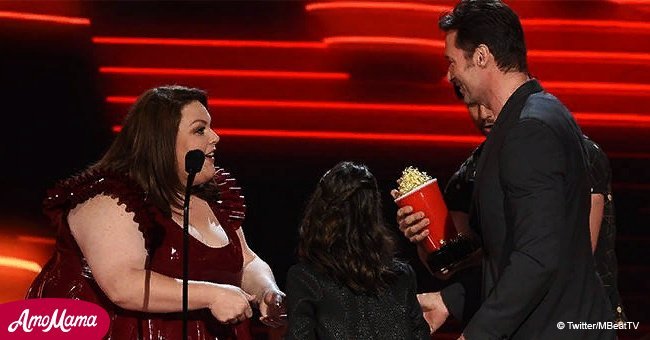 The lubed latex dress of Chrissy Metz that nearly 'spoiled' Hugh Jackman's suit
What should have been a wonderful moment nearly ended very awkwardly for these two!
At the 2017 MTV Movie Awards in May. Chrissy Metz had to present actors Hugh Jackman and Dafne Keen with an award for Best On-Screen Duo for their role in Logan.
As reported by E! News, what should have been a happy occasion could've become very strange in just one quick instant.
Metz had opted to wear a siren red latex dress for the occasion, which unfortunately had lube on it.
When Jackman came to accept his award, she very nearly ended up getting lube on Jackman's expensive suit in the process!
Speaking about the incident on Megyn Kelly Today, she told host Megyn Kelly about how she had to ward him off to avoid ruining the suit.
"And I was like, 'It's latex, and it's lubed up, and I don't want to get it on your suit.' He's like, 'Right, right,'" she explained. "I loved it and I loved that moment, but it was pretty funny."
The This Is Us star also spoke about her new memoir, This Is Me, an emotional book that delves into her relationship with her family.
She explained in the book that growing up, "food was love," and how her struggles with her weight even as a child helped her to connect with her character on This Is Us.
Today, Metz hopes that her story will help to inspire others to embrace self-love and acceptance, two very important factors that helped her to become so successful.
Please fill in your e-mail so we can share with you our top stories!