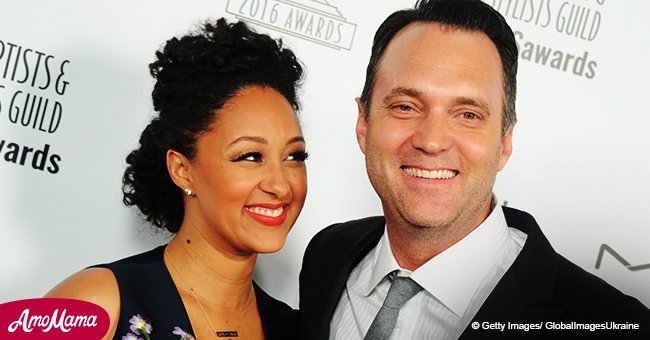 Tamera Mowry shares a cute photo of her hubby holding their two kids. He looks like a proud dad
Talk show host and actress, Tamera Mowry, shared a photo of her husband with their two kids and it melted everyone's hearts.
She posted an Instagram snap where her two kids seemed to be laughing wildly while being carried by her hubby, journalist Adam Housley. He looked blissfully happy looking at his kids. With the photo, Tamera wrote:
"I knew when I met @adamhousley that he would be a great father. Anyone who knows him knows that he is practically a big kid himself. His zest for life, never ending energy and big heart – yes, he's actually very sensitive (he'd give the shirt off his back for a foe). It never ceases to amaze me. Man, I'm so grateful for this man down to every drop. Aden and his girl Addy seem to like him, too! #daddy"
Many of her fans echoed what she wrote. One fan told her that she grew up with Adam and that she was happy that they found each other. Other fans remarked how beautiful they were as a family. One follower wrote:
"Be proud love. You have a gorgeous family. That's all that matters!"
Another person said that the snap was taken at such a "perfect, beautiful moment" and one follower said that it was "love overload." Indeed, it was. Tamera married the Fox News Correspondent after dating each other for almost six years.
They got married on May 15, 2011, in California's Napa Valley. Tamera gave birth to their first child, Aden John Tanner, on November 2012 and welcomed their daughter Ariah Talea Housley in July 2015.
Tamera is one of the hosts on The Real show and they recently talked about embracing one's natural hair—curls, coils, and all. Having experienced being discriminated because of her hair, she now feels liberated to accept what some people called an "unruly distraction."
"Ever since I started The Real I'm just so happy. Just imagine being told that this isn't beautiful, and then to go out there and be like, you know what, screw what anybody else thinks. This is beautiful."
Sound off in the comments and let us know what you think of Tamera's family!
Please fill in your e-mail so we can share with you our top stories!