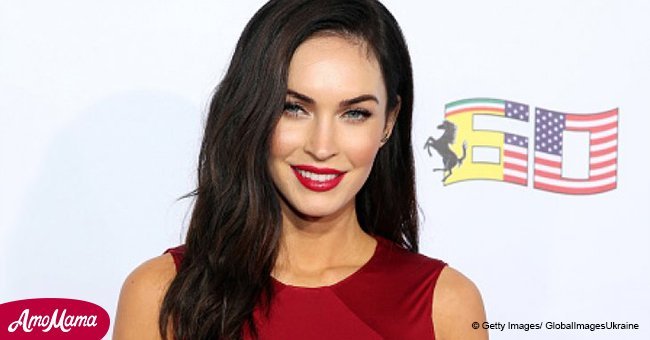 Megan Fox, 31, flashes her gorgeous body shape in white lingerie in recent photos
Actress and mother of three Megan Fox put on quite a show in a couple of recently released photos that showed her wearing lingerie.
AmoMama brings you the interesting news that actress Megan Fox set the front page of Style Verify Magazine on fire with her lingerie front cover as gathered from a March 29, 2018, post by Daily Mail.
She is a mother to three beautiful children from her marriage to Brian Austin Green but Megan Fox has not lost any of her sex appeals. Of course, that was why the whole world loved her in the first place.
Apart from her obvious acting talent, she looked beautiful opposite Shia LaBeouf back in 2007 in the very first Transformer movie.
And eleven years later, and at age thirty-one, none of those famous curves has disappeared with time. The star actress set the camera on fire in white lingerie for the cover of Style Verify Magazine.
The lingerie which accentuated her attractive body brilliantly is from Frederick's of Hollywood. Of course, Megan Fox is a co-owner, creative collaborator, and global brand ambassador, so it is safe to say that she is in love with the white lace bodysuit.
The brunette beauty has been heavily promoting the new range of underwear in recent weeks including fashion store Forever 21 launching the lingerie collection in its stores.
She even wore the flattering bodysuit in a selfie she put up on Instagram a few days ago.
In the new issue of Style Verify, the New Girl actress opens up about how she is often portrayed negatively in the press.
'People like to twist my own narrative and use it against me. I felt sort of powerless in expressing myself no matter how hard I tried to be genuine or to be who I was.'

'I felt discouraged in that way because I felt like I don't know how to be or live in this industry and have to do interviews.

'That's a part of what we do… when every time I open my mouth no matter how positive my intentions are it becomes something scandalous or something negative and then I get torn apart for it.'
However, Megan Fox says that she has learned to overcome all of that by not taking things personally.
'When you look at it that way, it removes the victimhood from a lot of this and it then gives you your power back because you no longer feel like someone is doing something to you. You realize that you've brought this to yourself for a reason and that it's going to have a positive outcome because now your perspective has changed.'
You go, Megan Fox!
Please fill in your e-mail so we can share with you our top stories!