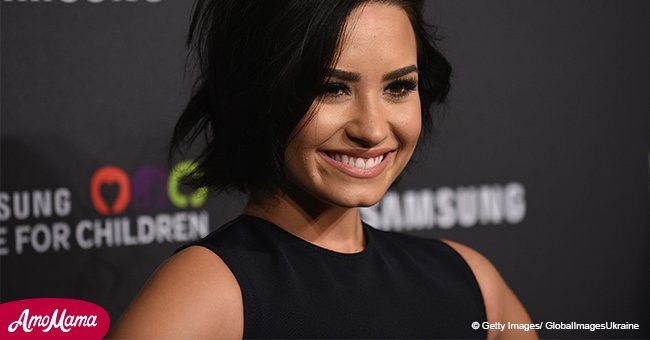 Demi Lovato, 25, shows off her curvy figure as she crawls on bed in very revealing photos
American singer and actress, Demi Lovato caused a stir on Instagram again as she posted revealing photos.
AmoMama brings you the news as Demi Lovato showed off her curvy figure in very revealing photos as reported in a March 29, 2018, post by 'Daily Mail.'
The pop and R&B star hasn't been shy about posting body-positive and revealing photos when it comes to her Instagram page.
She's an outspoken ambassador in the body positive movement.
The twenty-five-year-old singer recently posted some saucy photos via her Instagram page.
She is currently on her 'Tell Me You Love Me' world tour with DJ Khaled, but that hasn't stopped her from updating her Instagram page with new photos for her adoring fans.
In the photo which she captioned 'Nashville tonight,' the singer looked quite confident wearing all-white as she crawls on her hands and knees across a bed on the set of her stage.
Lovato's fans couldn't get over how gorgeous she looks and the photo gained over one million likes and thousands of comments within a short period.
She apparently shared the photo as a promotion for her tour with DJ Khaled.
Previously, she had shared another photo which gained more likes and comments than this.
In the photo, the twenty-five-year-old singer wore all-black; black pants, black shirt, black sunglasses and even black nail polish.
She wore her hair down and curly as she looked into the distance.
As her usual practice, she got most of her fans talking with her pose as she lifted up her shirt showing her toned tummy.
Lovato also talked about life on the road as she takes her tour.
She said,
'I get to play all my new music and it's really exciting for me. Tour has been going really good. Every night I look forward to the show. This show is so much fun and it's so action filled, you never get bored.'
Her posts came shortly after her ex, Wilmer Valderrama called her 'a hero.'
Her thirty-eight-year-old ex said that he admires the way she has overcome her demons and become an inspiration to 'young men and women out there.'
Please fill in your e-mail so we can share with you our top stories!