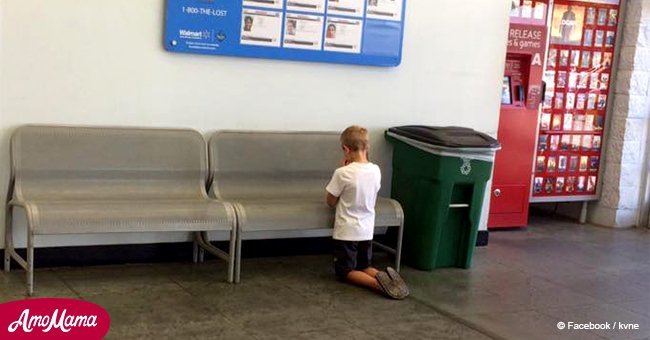 Mom turned around to make sure son was near. But he was kneeling in front of a blue board
The simple yet powerful photo has gone viral.
As reported by Faith Tap, the image of a little boy that was posted on Facebook in July 2017 has gained much attention. In the snap, the boy is seen kneeling in front of a blue board.
During his trip to Walmart store with his mother, the little boy wandered off at some point. Luckily, the mother found her son a few minutes later near the front of the store.
At first, she wanted to scold him for disappearing, but she changed her mind when she discovered what he'd been doing.
The mother saw her son kneeling at one of the benches towards the front of the store. She had no idea why he was doing it. Then she realized that he was praying.
Still confused, the mother looked above her son's head at the blue board hanging on the wall, according to Faith Tap.
'Every second counts,' the poster read, which was loaded with images of missing children.
During that time, the mother realized what he'd been doing the entire time.
"I had to run into Walmart. I turned around to make sure my son was next to me," she recounted
The mother added that instead of finding him by her side, she saw him "kneeling in front of the missing children board praying."
The photo received more than 108 thousand likes and more than 116 thousand shares. Many Facebook users also shared their honest thoughts about the little boy.
Erin Voeller wrote: 'This was a child in Walmart who was thinking about others and doing the only thing he could to help. The world would be a better place if everyone followed his example.'
Shirley Richardson added that the little boy is such an inspiration and that his mother must be very proud of him.
Please fill in your e-mail so we can share with you our top stories!