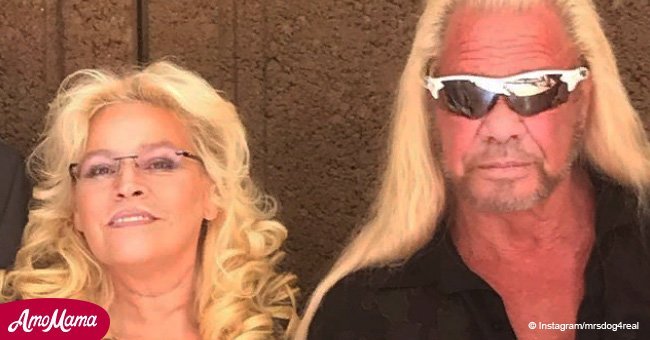 'Dog the Bounty Hunter' and Beth send a message to fans in a new photo amid infidelity claims
A cryptic message that Beth Chapman sent on social media had people concerned that her husband was cheating on her. But a recent post has dispelled those concerns.
In an image that Beth posted on Instagram, she could be seen smiling while holding her husband, Duane 'Dog' Chapman. The two were on holiday in Hawaii according to Pop Culture.
Duane and his wife, Beth, got all dressed up for the big Easter holiday's while on vacation in Hawaii. He wore a yellow plaid shirt and his trademark shades while Beth was seen in a white floral dress accessorized with layered pearl necklaces.
Beth captioned the photo, 'Happy Easter From Hawaii.' The couple looked happy cuddled up on vacation together, which relieved their fans who were concerned that some sort of infidelity was driving them apart.
Late last month, Beth shared a cryptic meme on Instagram that had fans thinking everything was not great in their relationship. The message was related to someone cheating on a good woman.
Fans got worried and replied to the post asking her in Duane had cheated on her. The former reality television star never denied or agreed to the allegations.
'Cheat on a good woman and karma makes sure you end up with the b— you deserve.'
Beth Chapman, Pop Culture, April 5, 2018
But it looks like all is well with the Chapman's and they've received healing after a tough year health-wise. Last year, Beth was diagnosed with Stage 2 throat cancer.
She had to undergo major surgery to have any chance of survival, which was all chronicled in Dog and Beth: Fight of Their Lives in November 2017. The two-hour special followed the family's journey through Beth's cancer diagnosis.
It also chronicled her surgery and healing, which concluded with the news that she was deemed cancer-free. Delivering the good news Duane said, "There is a God. This could be a miracle."
He revealed at the time that the doctor had said that if he wasn't such a good husband it wouldn't have worked out that great for his wife.
The star shared that he finally could breathe. Since the good news, fans and cast members alike have been rallying for a reboot of the show.
But so far the network hasn't released a public statement.
Please fill in your e-mail so we can share with you our top stories!