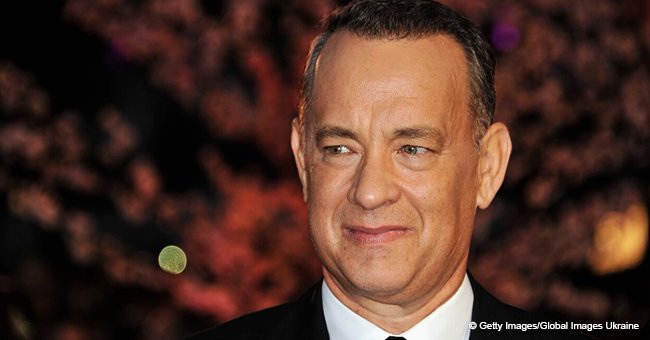 Tom Hanks' son has a baby with a gorgeous African American woman. The star's granddaughter is cute
- Legendary actor Tom Hanks' son, Chet Hanks, fathered a beautiful daughter with a gorgeous black woman, and the little girl is just too sweet for words.
- Pictures of the little Michaiah first came into public viewing back in 2016, when she was already 8 months old, and unfortunately they were subjected to many negative comments.
- Nevertheless Michaiah's birth has brought happiness into the lives of her grandparents, Tom and Rita, and has changed her father's life completely.
AmoMama learned from 'I Love Old School Music' that Tom Hanks has the most beautiful granddaughter.
Her father is Tom's 27-year-old son, Chet Hanks, and her mother is Tiffany Mills, a gorgeous black woman.
Photos of Tiffany and Michaiah first emerged in 2016, and many fans were taken aback by Tom having a half African American grandbaby.
The backlash could have been due to the fact that Tom has starred in many of director Clint Eastwood's movies, with Eastwood being pro-Trump, and these fans with their negative commentary might have forgotten that Tom's outlook on life varies greatly from that of Eastwood.
Hanks has liberal viewpoints, was a great supporter of President Obama, and doesn't tolerate any form of racial injustice.
'Mail Online' reported that grandpa Tom and his wife Rita just love their grandbaby, with Michaiah calling him 'Pappau' and Rita 'Yia Yia', the same names their other grandchildren call them.
As much as the little one's grandparents adore her, it seems Chet has been most touched by becoming her father.
Struggling with drug addiction in the past, Chet took to Instagram in December 2016 to announce his daughter to the world, stating that she has changed his life and that he has become sober.
'I want to share something today… I have a daughter. I do have a daughter. She's the reason why I turned my life around and got sober.'
Fans only became aware of Michaiah when she was 8 months old, and Chet explained that the reason for this was that he respected his baby's privacy.
'I don't post her on Instagram because her privacy is sacred to me. She's not something to be posted, she's something that I love. That's changed my life. It hasn't been easy making all my mistakes in public but I'm figuring it out. I'm doing the best I can.'
After news broke of Tiffany and Michaiah, they were unfortunately subjected to negative remarks.
Chet went onto Twitter in defense of the mother of his child, stating that she is one of the nicest people he knows.
It's not certain if Chet and Tiffany are still in a relationship, but the fact that he has the world of respect for the mother of his child is evident.
Michaiah will be surrounded by a loving family and a father and mother who obviously adores her.
Don't you think she's absolutely gorgeous?
Please fill in your e-mail so we can share with you our top stories!