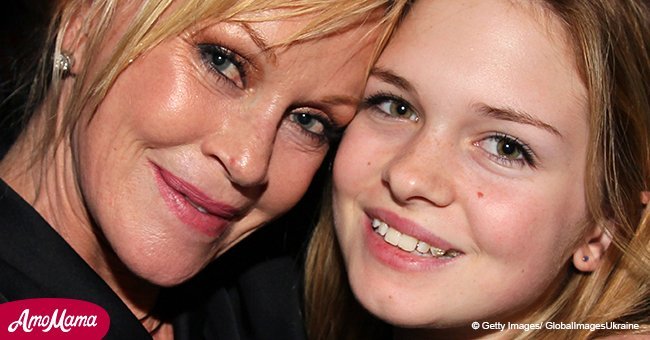 Melanie Griffith's younger daughter Stella, 21, shares photo of herself in a nude lace bikini
Melanie Griffith's daughter, Stella Banderas, has proved she's a mini version of her mother in a nude bikini recreating her mum's look from 1984.
AmoMama shares with you news of Stella Banderas' sultry look in a nude bikini piece as she tries to recreate her mother's look from a 1984 movie as reported by Inquistr on April 5, 2018.
Melanie Griffith has been able to pass on her beauty to her daughters as seen in Fifty Shades star, Dakota Johnson, but this time her daughter with Antonio Banderas has stolen the spotlight from Dakota with a recent picture.
Stella Banderas, 21, stoke all the attention when she posted a sultry picture of herself in a vintage-inspired nude lace bikini.
The daughter of Melanie, looked stunning as she posed beside the waterside and spotted a brunette hair which was packed into a messy bun.
She looked like her actress sister Dakota but had a much more striking resemblance to her famous Mum.
What differentiated this picture from every normal bikini-clad picture was the resemblance of Stella's pose to her mother's in the 1984 movie 'Body Double. Hola!'
Melanie shared a throwback picture of herself in the movie on her Instagram some months back and when compared to Stella's post looked very similar.
Melanie and Stella were seen gazing off into the horizon org one leg slightly raised above the other in their individual photos.
The mother-daughter duo struck very similar poses in the photos making Stella look like a younger version of her mom with very little differences in the hair color and location.
Melanie and her two beautiful daughters are almost inseparable as several pictures of them are seen in Stella and Melanie's Instagram page.
Although Stella and Dakota are both blondes naturally, the sisters have opted for a darker hair color as they are seen rocking a light brunette hair these days.
Melanie Griffith and her daughters are epitomes of true beauty!
It's not confirmed if Stella was trying to recreate her mother's iconic look but if she was, she did a tremendous job! Weldone Stella!
Please fill in your e-mail so we can share with you our top stories!