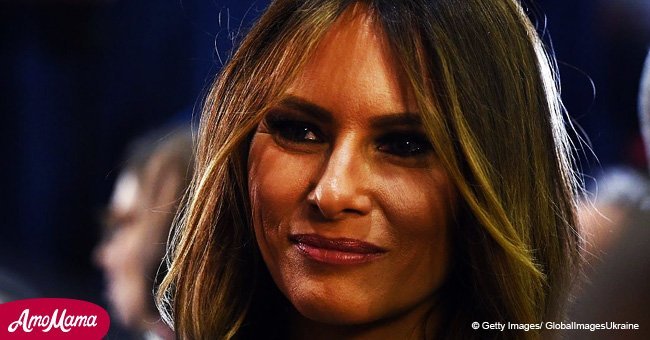 Melania Trump flaunts fashionable and expensive dress, and cute shoes during recent outing
The first lady grabbed attention while a recent outing with her husband.
Inquisitr reported that all eyes were on Melania Trump during a visit to the Episcopal Church of Bethesda-by-the-Sea, in Palm Beach, Florida, on April 1, 2018.
Accompanied by her husband, President Donald Trump, Melania attended the traditional Easter Sunday Services.
The President was seen waiting for his wife to join him at the entrance of the Church, where the couple had tied the knot in 2015.
Everybody's eyes were on the first lady's dress and that the words 'Melania Trump Easter Dress' witnessed a 650 percent increase in interest on Google Trends.
The former model, who is known for her fashion sense, was dressed to impress. She opted for an Azzedine Alaia printed dress that reached below her knees.
The dress featured a waist that was nipped in to create an hourglass type of look, fitted at the waist and bust area but loose and flared at the hips. On Net-a-Porter, the dress was listed at £2,190, which equals $3,072.
She sported the Christian Louboutin heels to go with the attire. These are considered to be appropriate for the season considering the warm weather.
While the sleeveless, pinkish-red dress did not come cheap, neither did the shoes, priced at $806. The white and bright-pink shoes made of glossy patent leather and woven fishnet appeared to mesh well with Melania's pink dress
Immediately after the First Lady's public appearance, people rushed over to the internet to look for the 'Alaia Jacquard-knit midi dress.' However, many found that the dress was listed either as 'low stock' or as 'sold out.'
The source reported that the dress had a stretchy fabric, a preferred material of the designer who looks to include a way to flatter the wearer's silhouette.
Malania too seems to prefer the trait as she has been seen on several occasions wearing waist-hugging attires.
Please fill in your e-mail so we can share with you our top stories!