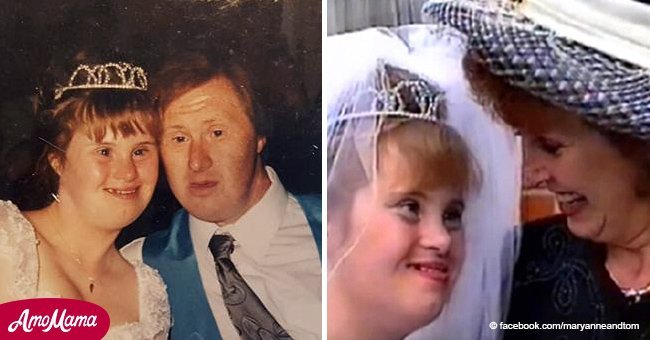 After 23 years of marriage, a Down syndrome couple have proved to cynics that love truly exists
This couple has a wonderful relationship, and is even inspiring others to believe in happy endings.
Maryanne and Tommy Pilling have had a wonderful marriage for almost 23 years. The couple tied the knot in July 1995, and have remained together ever since
But when they first got engaged, her mother received plenty of flak for allowing them to get married, reported Faith Tap.
Both Maryanne and Tommy have Down's Syndrome, and have faced plenty of challenges in their lives as a result
The pair met at a local training center for people with learning difficulties, and were instantly smitten with one another. After just 18 months together, Tommy had no doubts that Maryanne was the one, and popped the question.
Before he did, he asked her mother for permission. He then proposed with a toy ring that he had gotten out of a vending machine.
Maryanne's mother gave Tommy her permission, but plenty of others did not approve of their relationship. Linda Newman, Maryanne's sister, explained that her mother received a lot of flak for allowing them to get married.
"Their relationship is so special because it is pure; they don't understand bad emotions of hate," Newman explained.
In July 1995, after Maryanne's mother had helped Tommy to choose a proper ring for his bride, the couple said their "I do's" in a beautiful church ceremony.
Maryanne had always dreamed of a big white wedding, and that was exactly what she got for her special day.
Today the couple lives in the house next to her mother's house in Essex, with the rest of Maryanne's family just a few houses away from them.
"When they walk down the street holding hands, they make a statement but in a good way. Some people stare; they assume people with Down syndrome and learning difficulties can't get married," Newman explained.
But on the other side of the coin, she also explained that plenty of people are inspired by Maryanne and Tommy, and the family has even received an abundance of love from complete strangers as a result.
"People worried about their own children or grandchildren with Down syndrome get hope from Maryanne and Tommy's story. I hope that their children can also fall in love and live happily ever after," she said.
The couple are still happy together over two decades after tying the knot, and Newman explained how it is just a relationship between two kindhearted people who love and trust one another, and are completely honest.
Maryanne also gushed about her wonderful husband, saying that their wedding day was the best day of her life.
"I was shocked when Tommy proposed, but I didn't have to think twice about saying yes. Tommy and I never argue. I love my husband very much. He is my best friend," she said.
Please fill in your e-mail so we can share with you our top stories!