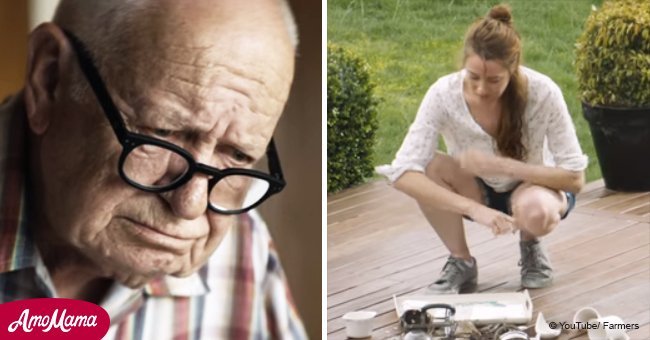 Grumpy old man is furious when loud family moves in next-door. Then he sees struggling mom
This new Christmas ad has been melting many hearts.
The Farmers Department Store decided to tell a story about a grumpy old man, as reported by Uplifting Today.
It begins with the man looking out his window, with an expression of annoyance on his face. He doesn't approve of what he sees happening outside.
His neighbors doesn't like him, for being an angry old guy. What they didn't know is that he is keeping a secret.
The old grumpy man actually plays Secret Santa!
After seeing one neighbor berating her son for breaking her coffeemaker, he secretly buys her another one.
He does this in the subtlest way. He pretends that he is throwing the new coffeemaker away and asking her casually if she would like it instead.
He then buys another neighbor a fan after seeing him carrying a crying baby in hot weather. He pretends to have no need for it by placing it in his shed.
The story takes a more touching turn after a little boy discovers what the old man is doing. He decides to do something for the Secret Santa.
The old man receives a surprise on Christmas Day. It was a simple surprise he never expected. The boy places a glass of milk and a plate of cookies by his doorstep.
The boy rings the door bell and run away to avoid getting caught. The old man can't help but smile when he sees the suprise and catches the boy watching him from the window.
The ad, posted on Youtube on November 2, 2017, has been viewed more than 1 million times.
'Awesome, Job Farmers! Easily the best and most emotional add on NZ TV at the moment. Says an aweful lot... Children will always see past the exterior and see the Santa within...Adults could learn a lot,' commented Greg L.
Another wrote in the comments section: 'This is actually the true meaning of Christmas.'
Please fill in your e-mail so we can share with you our top stories!