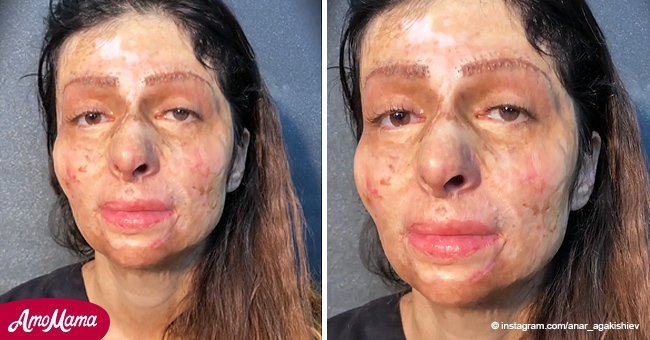 The way a woman reacted for her first ever makeup blows the Internet
The makeup artist gives a burn victim a whole new look by covering her scars with natural-looking coverage.
This talented artist regularly takes to Instagram to show off his looks and is famed for his ability to use makeup to banish wrinkles and dark circles from his clients' complexions.
Some videos showing before-and-after videos of older women or women with skin conditions emerging totally transformed from their makeovers have led to social media fame and countless followers for makeup artists like Anar Agakishiev from Georgia.
The talented 32-year-old, whose clients include the likes of Irina Shayk and Nicole Scherzinger, is known for blowing people away with his ability to transform, and his latest effort is no exception.
According to a People magazine report, the latest video by Agakishiev shows the most touching transformation yet and has gotten the attention of millions of viewers, as well as some big names in makeup, too.
Agakishiev posted the makeover video, which has been viewed over 4 million times in just three days. Each look takes around two hours to complete including both makeup and hair styling
The model, who the artist says had an accident at 11 that left her disfigured, is shown in tears as she sees herself in makeup for the first time. The video shows the overwhelming emotion on her face as she looks in the mirror without scars being noticed.
The make-up artist insists that his pictures are genuine, and not photoshopped, and he often posts videos to prove it. But he refuses to reveal his secrets, only naming some of the brands he uses instead.
Agakishiev had a passion for beauty from an early age. While his parents initially encouraged him to take up medicine, he soon left university to pursue a career in the beauty industry.
His clientele includes famous singers and Eurovision contestants, but it's his transformations that really turn heads.
Please fill in your e-mail so we can share with you our top stories!