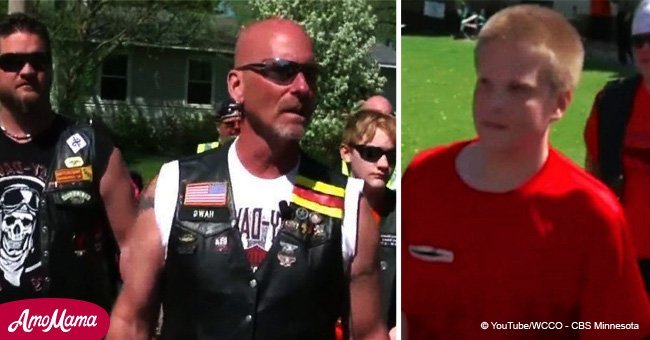 Bikers storm a neighborhood hunting down a bullied teen. Once found, many can't hold back tears
A group of bikers shows up outside the home of a young boy to deliver him a delightful surprise.
Members of Syd's Angels Biker Against Bullies stopped by Zane Omlid's house to encourage him after knowing that the young boy had been a victim of severe bullying at school.
According to Uplifting Today, the teenager from Minnesota had been physically assaulted and mocked by kids in his school. His parents further bereaved that their son 'was punched, pushed, and written on with markers' while attending middle school.
To encourage the child and give him strength and hope, Syd's Angels Bikers Against Bullies decided to show up in Omlid's neighborhood.
In a video that was uploaded to YouTube, the founder of the group, Greg Carson, is seen stopping in the neighborhood and calling out the boy.
"We're looking for a 13-year-old named Zane," Carson is seen shouting in the video. The young boy then walks out of his home in a state of surprise. He is then welcomed by a warming applause.
Caron then introduces the Zane to other members of the group and then lends a few words of support. He hugs him and tells him that they are with him for support. The group members even gift him their t-shirt to let the boy know that he is now the part of their family.
Zane's mother watches all this with tears of emotions running down her cheeks. She is grateful toward the bikers, who decided to show up and help her child out for no apparent reason.
"This is amazing what these guys are doing today," Zane's mother is seen stating. She further expressed her hope that this kind of support would help her boy heal from the mental stress caused by bullying.
Syd's Angels Bikers Against Bullying was founded in 2016 and is named after a girl, Sydney, who was also a victim of extreme bullying.
Please fill in your e-mail so we can share with you our top stories!