Jennifer Aniston looks much younger in a smart black blazer with cuffed jeans at her recent outing
The actress looked gorgeous and youthful as she was spotted at WE Day in Los Angeles on Thursday.
Jennifer Aniston had the appearance of a pretty young woman while wearing a laidback chic outfit and the black wrist brace on her left arm, which is the same one she wore to Gwyneth Paltrow's wedding celebration last week. Daily Mail has the deets.
The 49-year-old was snapped posing on the red carpet at The Forum in Inglewood. She donned a smart black blazer with cuffed jeans and white sneakers. She looked happy even with the obvious injury as she arrived at the youth empowerment event.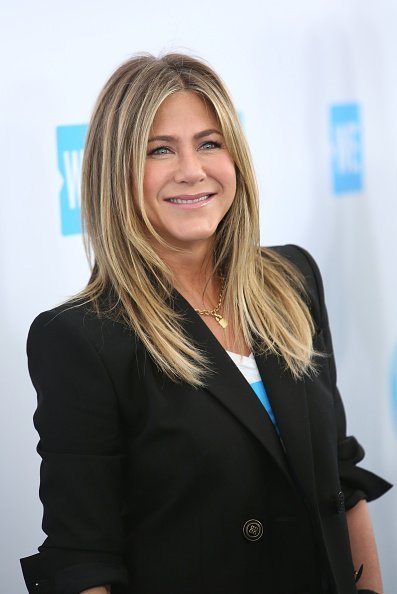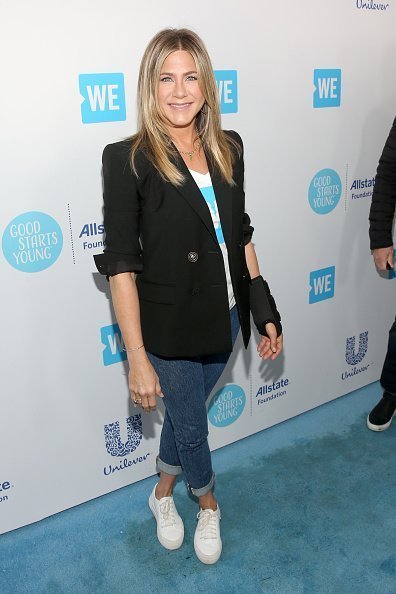 Her appearance came as the young woman seen with her ex-husband Justin Theroux last week was identified to be model Erika Cardenas, who is 26 years old.
Jen and Justin announced their split in February after two years and a half of marriage, following four years of dating.
The 46-year-old actor has been romantically linked to different women including artist Petra Collins and Parks and Recreation star Aubrey Plaza. But the one with the model from State Management stuck.
There is a big age difference between the two as the 46-year-old actor is twenty years older than the lady. According to a source, Erika met Justin at the gym and the two are said to be "just friends." Erika often posts to Instagram many of her beautiful snaps from her portfolio and is a New Jersey native.
During their sighting on an outing in New York on Friday, the actor flaunted his toned biceps as he wore a sleeveless Eazy-E T-shirt. The pair got coffees together and were spotted chatting and laughing and seemed to have a good time.
Erika, on the other hand, donned a white blouse tied at the waist to reveal her belly and wore her tightly curled locks up in a ponytail. They were later seen taking a stroll while Justin pushed his bike along with him.