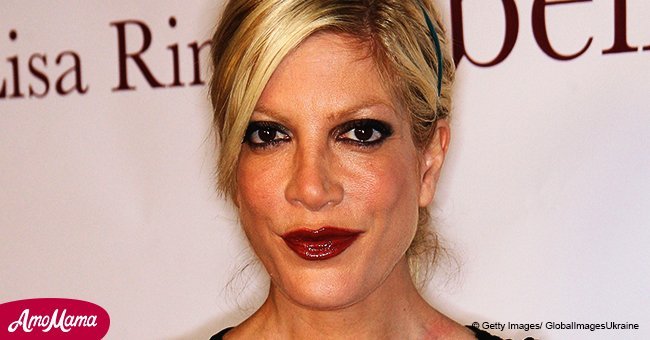 Tori Spelling shares an emotional throwback photo with her late dad on his 95th birthday
Former 90210 star Tori Spelling shared a lovely tribute to her late dad Aaron Spelling on social media.
AmoMama shares with you details of Tori Spelling's heartfelt tribute to her late dad on his postpartum birthday as reported by Daily Mail on April 23, 2018.
There's nothing as sad as losing a loved one, and no matter how much time flies after their death, their memories are forever etched in our hearts. This was the case of 90210 star Tori Spelling as she took to social media to pay a heartfelt tribute to her late dad Aaron Spelling on Sunday to celebrate what would have been his 95th birthday.
In the old photo shared on Tori's Instagram page, she was just a little girl, and her dad was dotingly hugging her close. Little Tori was seen in an adorable red and white dress as she was all smiles.
She captioned the lovely photo writing,
'Today is the birthday of my hero. A creative genius that touched the lives of everyone he came in contact with. An inspiration on every level. The kindest and most gentle soul ever. He was loved by all but I'm lucky because I got to call him dad. Happy birthday daddy we were all blessed to had the time we had with you.'
The post garnered over 32,000 likes from fans and several comments that addressed how adorable they looked.
That wasn't the only picture shared by Tori as she also uploaded a black and white photo of herself and her dad in white bathrobes as he playfully tugged at her wet blonde hair.
She reminisced how her dad would take her to the pool as a kid and how they played games about a restaurant named Chasens.
Tori's dad Aaron Spelling was known for his iconic work on The Love Boat, Charlie's Angels, and Fantasy Island. He was also a producer on 90210- the show where Tori rose to stardom.
After his death, Tori only received a mere sum of $800,000 as her inheritance from her father's immense wealth.
It was later revealed by her mother Candy Spelling that Tori lacked the financial responsibility to handle more than her allocated sum.
Hollywood sure misses Aaron. and we're sure he'll be proud of his baby girl.
Please fill in your e-mail so we can share with you our top stories!