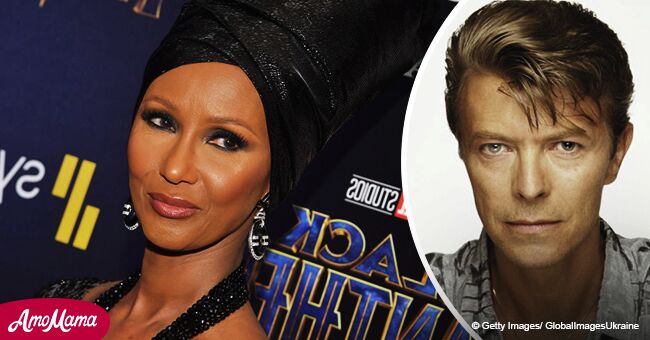 Iman shares photos of the late David Bowie holding her as she celebrates their 26th anniversary

Iman is, and will always be in-love with her late husband David Bowie. Despite his passing away, the model constantly shares photos of the two of them on her personal Instagram account.
And just this week, Iman shared yet another two photos, this time from her wedding to David, on the day that would have been their 26th anniversary.
The 62-year-old model paid tribute to her late husband by sharing two photos of the very private 1992 civil ceremony in Lausanne, Switzerland.
Despite the entire wedding being a very private affair, Iman looked gorgeous in a white trouser suit as she flashed a huge smile while being carried by Bowie.
He himself looked equally beautiful in a black dress suit as he held Iman in his arms.
"When I count my blessings, I count you twice. April 24th #BowieForever"
David passed away in January 2016 after privately dealing with liver cancer.
Their 1992 civil ceremony which occured near David's Swiss home, was a very simple day with only two witnesses and an interpreter.
The news only picked up in the media more than a week after the ceremonies took place.
Iman has been constantly sharing bits and pieces of her late husband on her Instagram account.
In a previous interview with Oprah, Iman shared that the secret to their very healthy relationship was that they knew how to differentiate the person and the persona.
"We both understand the difference between the person and the persona. When we are home, we are just Iman and David. I think the secret to a long lasting marriage is timing, first of all. You have to be at the right time in your life that you're ready for an everlasting relationship, that it becomes first, and a priority in life."
Iman proceeded to share advice to women who are planning to have families and get married.
"If your career is important to you, don't get married and have children, because something will give. I know as women we want to be able to have it all, but we can't have it all at the same time. So make your priority of what you want at that time."
Please fill in your e-mail so we can share with you our top stories!