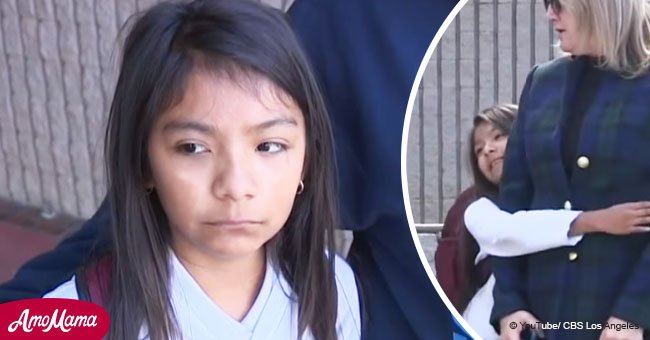 Stranger saves little girl from kidnapping in the most clever way
A Good Samaritan prevented a kidnapping attempt when she thought something was off with a girl and her adult companion.
On February 21, Claudia Hernandez Diaz, 34, allegedly attempted to abduct the girl about 7:45 a.m. on Main Street at McFadden Avenue, as reported by Little Things.
Around that time, a mother who had just dropped off her child at a nearby high school was driving home when she saw the abduction attempt.
The woman, who wanted to remain anonymous, pretended to be the girl's mother in order to save her, and now she's being branded as a hero for it.
Source: Joxi
In an interview with KTLA, the young girl who was nearly abducted, Amy Martinez, has opened up about the whole situation
"She just came up to me and went like this," Martinez said while reenacting the bear hug that Claudia put her in.
She added: "And then, she started walking with me away."
Source: Joxi
Santa Ana police Cpl. Anthony Bertagna explained that the unnamed woman didn't know if it was a mother having an issue with her daughter. But she immediately thought that something wasn't right, considering the woman looked homeless.
"So she makes a turn, comes around and asked the young victim, `Are you okay?' and the victim looked at her and shook her head no, and she could see the fright in her eyes," Bertagna added.
The woman told the suspect that she was Amy's mother. She then insisted to let the girl go.
According to Bertagna, the woman's "motherly instincts kicked in and she told the suspect, `That's my child, give her back to me.'"
He also said that it took three of those calls to make the homeless woman let go of the girl. The heroine then took Amy to school.
After officers flooded the area, Diaz was tracked down and arrested. The suspect was then taken into custody.
Please fill in your e-mail so we can share with you our top stories!