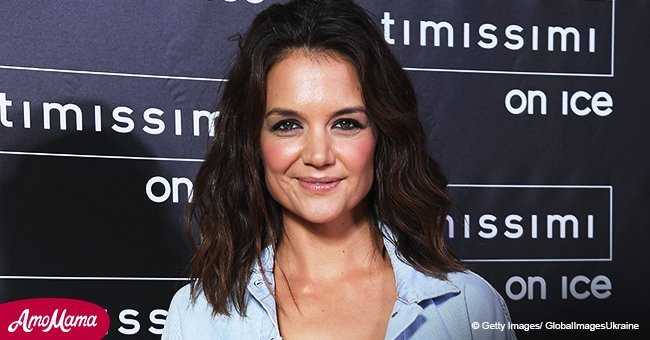 Katie Holmes shows off her slender body in a high-waisted pair of fitted jeans and a pink blouse
The actress flaunted her awesome styling skills when she was spotted in New York City this Thursday.
Sporting a cropped do meant that she could style it any way she wants to, so on Thursday she hid her locks under a wide-brimmed navy bowler hat. Daily Mail has the scoop.
Katie Holmes protected her peepers from the rays of the sun in a pair of massive shades and slipped into a powder pink blouse. She tucked her top into a high-waisted pair of fitted jeans, which accentuated her toned torso. She wore a pair of chic flats and slung on two bags.
A chunk of her signature brunette locks was chopped off for her role in the action thriller Doorman. She had also been working out for the role. In Women's Health, she disclosed her workout regime for the film (including boxing). She had never done boxing before but has said that "it's thrilling. You can get out the stress of the day."
The 39-year-old actress explained about her haircut and weight-lifting as something she "wanted to be authentic to a person who trained in the military."
"Which means someone who wasn't always paying attention to the mirror and who was in shape not for vanity, but because that's what her job called for."
The mother-of-one recently celebrated her daughter, Suri Cruise's 12th birthday and shared a sweet photo of the girl wearing a tiara and decorated headband.
The Dawson's Creek alum shares Suri with ex-husband Tom Cruise, whom she married in November 2006 and called it quits in 2012. She retained primary custody but Tom could visit.
According to Ron Miscavige, the father of Scientology leader David Miscavige, Katie had misgivings about Scientology—including the effect it could have on Suri—which was a big factor in her decision to leave Tom.
Katie and Jamie Foxx publicly became an item late last year but there had been rumors that they were a couple since 2013 but speculations about Katie's divorce agreement in prohibiting her from publicly dating anyone for five years after the separation from Tom could have something to do with it.
Please fill in your e-mail so we can share with you our top stories!