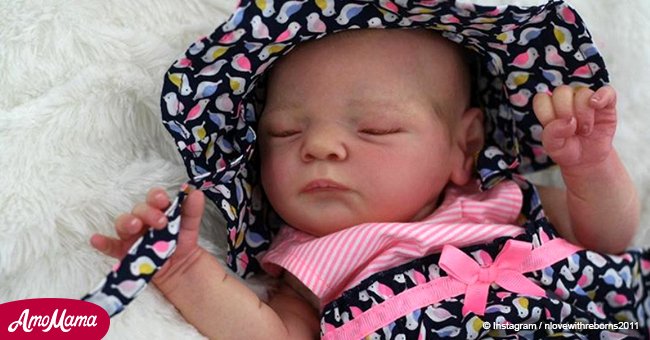 Woman makes dolls that look alive

Little girls love dolls, but now Stephanie Ortiz is making dolls for grown women.
Next time you see a woman cradling a newborn baby, take a close look. A very close look, because what you are seeing may not be a baby. You may be seeing one of the creations of artist Stephanie Ortiz, revealed Shared.com on the 5th of April 2018.
Ortiz was an avid doll collector, and with the birth of her own child, she had an idea for a new type of doll for adults.
Ortiz has launched a line of astonishingly life-like baby dolls called 'Reborn' and these amazing creations are so lifelike that people have trouble believing these are not real babies.
The 'Reborn' dolls have now become a hot item, even though they sell for a whopping $600 tp $900 a piece. Women love them, and so do doll collectors, and Ortiz has to work very hard to fulfill her backlog of orders.
"I never thought I'd become a sought-after artist," Ortiz said. "I was at a doll show recently and people came up to me crying. I didn't even know what to say."
Stephanie Ortiz, Shared.com, 5th of April 2018.
Ortiz started by making these strikingly life-like dolls as a hobby, but then she lost her job as a manager at a landscaping company last year, and she started to make the dolls to sell in an attempt to earn some extra money for her family.
These dolls are pieces of art, and Ortiz takes a painstaking amount of time to make each and every one. Each doll takes up to 40 hours of intensive work to complete, and Ortiz frequently works on 5 or 6 different dolls at a time. She hand-paints every last detail from their veins to their freckles, to their rashes and blushed faces.
The dolls weigh four to five pounds each - like a real baby - and their limbs are made to be heavy while their head is filled with glass beads to "give it the floppy likeness of an actual newborn."
Passionate 'Reborn' collectors are known to role-play with their dolls and may even have a nursery for them in their home. They care for the dolls as if they were real children, and frequently post videos of their interactions online.
Ortiz is now one of the most popular creators of 'Reborn' dolls and explains that many of her customers have children and that her dolls are not substitutes.Their lifelike appearance has been described as disturbing, and many people have expressed concern over how 'healthy' it is for adults to play with such 'toys'.
The controversy and the discussions may be heated, but Ortiz explains that her business is growing, and many people contact her personally and online expressing their admiration and asking where they can get one of her adorable 'babies'.
Please fill in your e-mail so we can share with you our top stories!