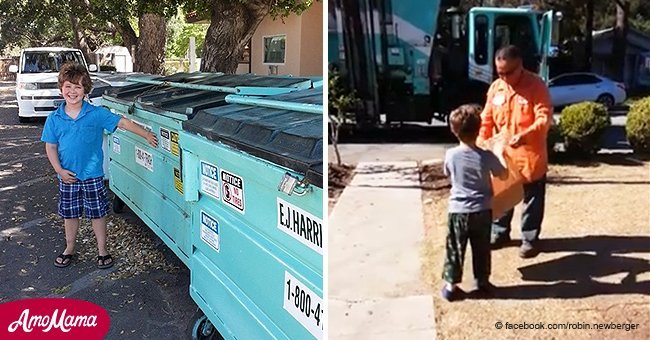 Autistic boy fascinated by garbage trucks receives a surprise from a driver he's never met
A five-year-old with autism has always been fascinated with garbage trucks. He loves looking at the truck passing by every week to pick up their trash.
Daniel Newberger used to be scared whenever the garbage truck would pass by but he grew to like them after his mother, Robin Newberger, showed him a video of a garbage truck a few years ago.
He would observe the truck every week as it mechanically lifts the cans and recycles away, as shared by The Epoch Times.
Robin wrote in a Facebook post, 'Like many children on the autism spectrum, this has become a ritual for him. He loves the predictable movement of the hoist and is excited by the entire spectacle. He waits all week for Monday morning pickup.'
Daniel's parents have always supported their son's interests. They would wait with him outside their home every Monday for the garbage truck to pass by.
The young boy's favorite pickup man is Manuel, who has always been kind to Daniel and never forgot to give him a smile.
One Monday, it turned out to be a very special day for Daniel.
Usually, Manuel never leaves his truck, but on that day, he broke his routine and went towards Daniel.
Manuel approached the boy's parents and asked them if he could give Daniel a present. The parents happily agreed and were touched with Manuel's gesture.
As Manuel handed Daniel a big plastic bag with a box, it was evident the boy was both curious and excited.
To his surprise, the box had a toy garbage truck inside. Manuel knew how Daniel loved garbage trucks and thought that it would be nice to buy Daniel the toy using his own money.
The parents were also shocked when they saw the toy because, coincidentally, it was the same kind of toy garbage truck that their son used to have but got broken.
Newberger captured the entire thing on video and uploaded it to social media. The post quickly went viral and an organization called Autism Speaks noticed it.
The video inspired families with members who have autism all over the world.
As for Manuel, his company acknowledged his selfless efforts and rewarded him with a restaurant gift certificate.
Please fill in your e-mail so we can share with you our top stories!