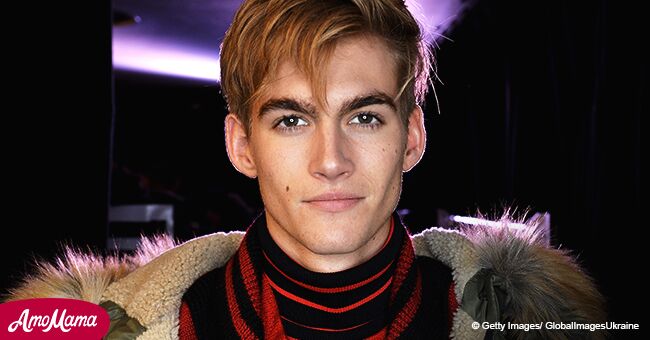 Cindy Crawford's 18-year-old son is spotted during a recent event. He looks so grown up
Presley Gerber was last spotted in Coachella Arts and Music Festival dancing around with his famous sister Kaia Gerber and their mom Cindy Crawford.
And last Friday, the model was spotted heading to dinner at the West Hollywood celebrity hotspot Craig's.
The 18-year-old model donned an all-black look which comprised of a black shirt, jacket, and skinny jeans.
To complete his all-black ensemble, he wore highcut sneakers. Taking some time off from his modeling duties, the young star made sure to hit up Craig's with a few of his friends.
Meanwhile, his mother and sister had a great time together at Coachella last weekend, where they posed for a selfie which they captioned 'Desert Girls'.
Worried about the industry that her children are part of, Cindy shared that she is lucky not to have experienced any #MeToo stories. Previously shared by Daily Mail, Cindy explained how she would go through everything and anything to protect her children.
"I'm really lucky because I don't have a #MeToo story. As far as being a mother of two young people going into fashion, of course I worry. But let's be honest, my kids are blessed in that business because they aren't coming in as unknowns. People will know I will come after them if they mess with my kids."
While Cindy is happy that her children's careers are blossoming, Presley himself admitted that his mother is hoping that he would enter college after postponing his studies to model.
"It's not looking like I'm going to be heading there any time soon but it is definitely still in the back of my mind somewhere. I wanted to go for a minute and then I just started working. And now I'm having so much fun, it's like: Don't fix it if it's not broken."
Please fill in your e-mail so we can share with you our top stories!