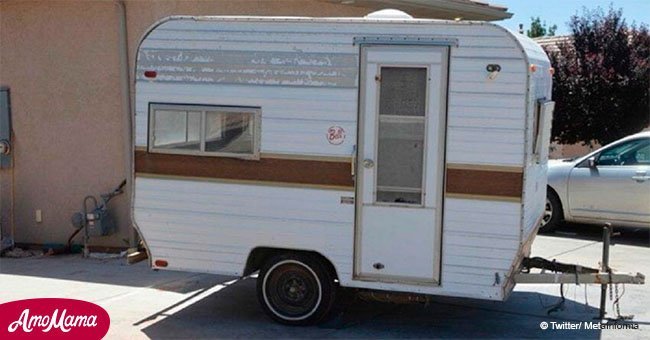 Woman bought a dirty old trailer for $1,000. Now it's a gorgeous tiny home
With just a small amount of investment, the woman managed to give an old trailer a complete turnaround.
Mandi Gubler bought a 1973 Bell Trailer and, despite everyone's doubts, turned it into a beautiful home for herself by doing miraculous renovations.
According to Shared, Gubler writes tutorials on decorating retro furniture in her own blog called, Vintage Revivals. However, even the expert renovator had a big challenge ahead of herself when she had to update her trailer, which she nicknamed, 'The Nugget.'
When she brought the trailer, its outside was water-damaged and it had holes all over the walls. Plus, its interior was traditional and reminded of the style of the 1970's.
The cramped 13-by-5 foot trailer required much imagination from Gubler before it finally got turned into a tiny, perfect home that felt 'open and bright.' And to do this, all she did was take out most of the old cabinets and furniture.
"Basically, we took out everything that was higher up. It just felt so dark and enclosed," the source quoted her as revealing. She also replaced a lot of wood paneling and 'ugly' floral prints to give her trailer a new, improved look.
Looking at the new and revived trailer, it is hard to believe that it was once a broken old trailer. And the first striking thing about the improved look of 'The Nugget' is the attractive paintwork that Gubler has given it.
But the inside of the trailer is even more appealing. It now boasts a spacious interior with all of the old bunk beds and cabinets gone. There is also a row of potted plants and smaller wooden selves above a comfortable pair of purple sofas.
Gubler has also opened up trailer's small bathroom to build a glass-front pantry. Replacing the old flooring, she has now chosen a wooden tile flooring that covers up the old avocado green design.
The miraculous turnaround of the trailer was completed in just under four months and with an investment of $5000.
Please fill in your e-mail so we can share with you our top stories!