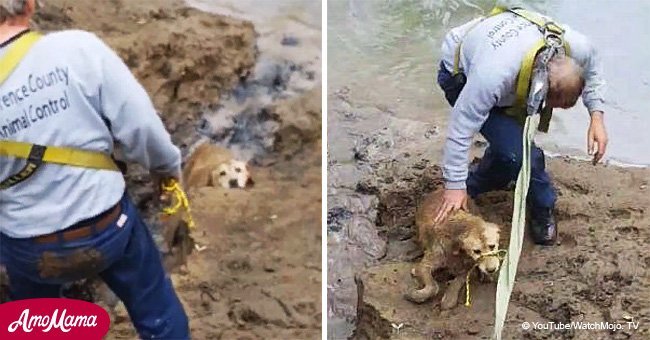 Dog was 'miraculously' rescued from muddy river
A dog named Ginger is given a new lease on life after being rescued by kind-hearted individuals in a river.
As reported by WSAZ, a group of men rescued Ginger, who was stuck in a river in Lawrence County, Kentucky recently.
According to one of the rescuers, Johnny Rickman, it was a miracle that they got out in time.
Darrell Perkins told WSAZ that his sister and brother-in-law lost Ginger.
When the dog was already missing for several days, the family, who live in Levisa Fork near the Martin County line, assumed that something terrible happened to her.
Luckily, Darrell heard a howling sound coming from the other side of the river one morning. His mind quickly went to their dog.
Darrell walked down the river bank to investigate. Then, he saw Ginger stuck in the mud and the creek water.
He believed that their pet dog has been stuck there since she went missing.
"I'm thankful that the river hadn't raised a couple feet or she would have drowned," he said. "I didn't know what to do."
Darrell immediately asked his neighbors, Mitchell McCoy, and Johnny Rickman, the Lawrence County dog warden, to help. The two arrived on the scene right away.
Johnny tethered for safety, inching down the slope to reach Ginger.
"I could not have rescued the dog by myself. The hill was too steep and muddy and right against the river," Darrell said.
Ginger was rescued and she was immediately taken to the Tri-County Animal Clinic, where she's taken some food and water.
The long-awaited and touching moment was captured on video, which quickly went viral on Facebook. The video has been viewed 18,000 times so far, WSAZ reported.
Darrell said that he just took the video to show his sister where Ginger was.
Please fill in your e-mail so we can share with you our top stories!