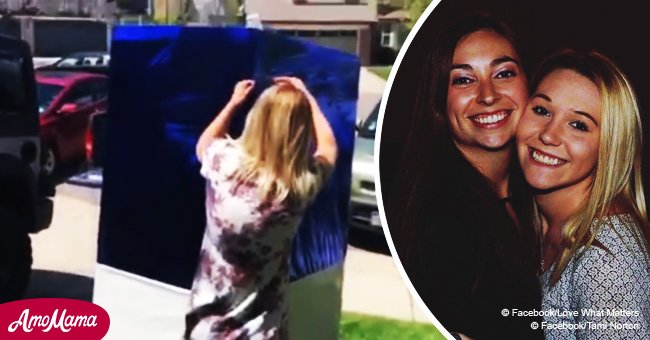 Woman's emotional response to a refrigerator-sized graduation gift
One of the most important events in a young person's life is their Highschool Graduation
Tami Norton was about to graduate as a senior from Thunder Ridge High School in Colorado, and she was understandably excited, reported Inspired on the 3rd of May 2018.
Her whole family and her friends would be there to witness the crowning moment of her academic career thus far, and afterward, they would all celebrate together.
Unbeknownst to Tami, her father Tim Norton was planning a special surprise for her, something that would make the day even more special and noteworthy.
On the fateful day, Tami's father called her out into the garden, and there on the front lawn was a giant gift. It was a huge box, wrapped in shiny blue paper. Tami couldn't believe her eyes: The box was bigger than she was.
"She was sad that her sister wasn't going to be able to make it to her party. (***) They've always been very close."
Her family and friends all came out to watch her open her present, and they were calling out suggestions and warnings, telling her to be careful because the contents were fragile.
Finally, Tami managed to get the wrapping off, and a refrigerator-sized closed box was revealed. Calling on every iota of her strength, the teenager opened the box.
To her astonished delight, out jumped her older sister Brittany and her sister's boyfriend Jim Goodliffe. Brittany was the only person in the family who had said she couldn't make it to Tami's graduation, and now here she was: The surprise guest of honor.
Brittany lives in Arizona, and it had been two years since the two sisters had seen each other during the Christmas celebrations in 2016.
The happy and tearful reunion was captured on camera by Tami's friends and the sweet surprise and their joyful reactions were posted on social media.
The video of Tami and Brittany hugging after their long separation went viral and has been shared and seen by thousands of people around the world.
Tami Horton had a truly memorable graduation surrounded by the people she loves the most in the world.
Please fill in your e-mail so we can share with you our top stories!