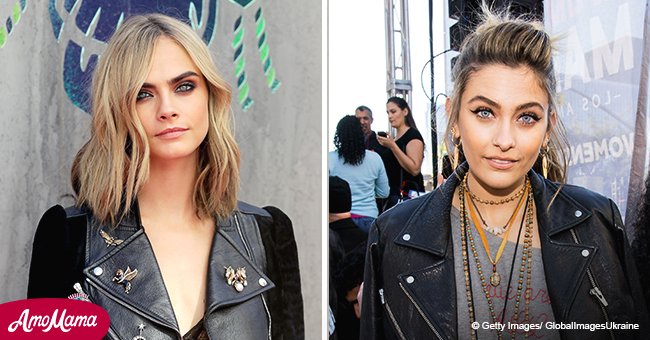 Paris Jackson and Cara Delevigne were spotted in matching outfits at a recent public outing
Paris Jackson and Cara Delevigne have been rumored to be together for months, and the two were spotted out on a date yet again just days before this year's MET Gala.
Cara Delevigne, 25, and Paris Jackson, 20, have been sparking romance rumors for months, and their latest sighting just added fuel to the fire.
The two blonde beauties were spotted exiting a car together in New York City just hours after they attended the Longchamp Fifth Avenue store opening last May 3rd.
As if appearing together was not enough, Cara and Paris appeared to even have matching outfits for that day.
The daughter of late King of Pop Michael Jackson was wearing a white t-shirt, jeans, and black boots, while the 'Paper Towns' star chose to wear a white tank top, denim shorts, and black knee-high boots.
While the two of them have yet to officially confirm whether or not they are dating, they have been hinting their romance for months now.
According to a source who confided in Hollywood Life, Cara and Paris have a unique bond.
"Cara and Paris are crazy about each other. They have amazing chemistry and a super strong attraction. Whenever they're together, they have an awesome time."
However, with the two models leading very busy lives and living in two different continents, their time together is often very limited.
"Cara and Paris don't get to see each other as much as they would like to right now, as Cara's work schedule is insane, but when they do they really make the most of their time together. Cara is totally smitten with Paris, she loves how smart and funny she is, and finds her sexy as hell."
Just last week, fans were delighted to see a photo of Cara on Paris' Instagram page. In the image, Cara is blowing smoke from a cigarette, with her side profile on full display.
It was not just Cara's face that seemed to spark dating rumors, but the giant red lipstick mark on her cheek.
Paris left the photo to speak for itself, leaving its caption blank, and disabling comments on that particular snap.
Please fill in your e-mail so we can share with you our top stories!