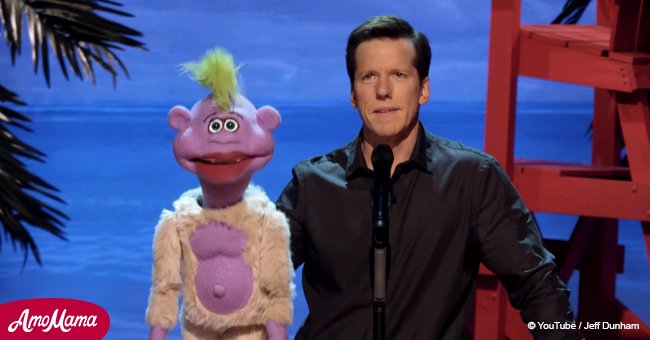 Peanut is shaking because of his caffeine high and Jeff Dunham couldn't handle him
Some people need many doses of coffee to help them get through the day.
Rare reported that ventriloquist, Jeff Dunham, and his sidekick discussed the latter's coffee addiction during one of their performances.
Dunham's unique ways make the audience laugh about everyday situations. He expresses typical daily activities hilariously.
Hi sidekick, Peanut, needs a daily dose of caffeine. He not only enjoys the taste of coffee, he is clearly addicted to it.
One fine day he decides to go to Starbucks just before the show. The result – he cannot stay still.
The cute purple puppet is shaking and firing on all cylinders as he is high on caffeine. In fact, he even answers Dunham's questions even before he has asked them.
Just before the show, Peanut had more than his fill of caffeine. As Dunham reminds him, he is not supposed to have any caffeine. However, he could not stop himself from giving into his addiction
He does draw the line when it comes to caffeine – coffee enemas. He also told the audience a secret to have some fun at a coffee bar.
According to Peanut, to play a joke on barista, all one needs to do is to write 'coffee enema' as a special.
Then point to the menu and tell them that you would like it frozen, just the same way you had it the last time.
It is highly doubtful if he got his latte after the show. With the current state, he did not seem to need it, though he may have had all the caffeine as Dunham's twin boys were keeping everyone up during the night.
During another performance, Peanut did not mince words when talking about Dunham becoming a father to twins, James and Jack. He had several age-related jokes up his sleeves.
Dunham, who is in his mid-50's, will be a senior citizen in less than a decade but will have two sons in diapers, according to Peanut.
When the ventriloquist said that he got to see his boys' first steps, Peanut quipped that they would be able to see his last step.
Please fill in your e-mail so we can share with you our top stories!