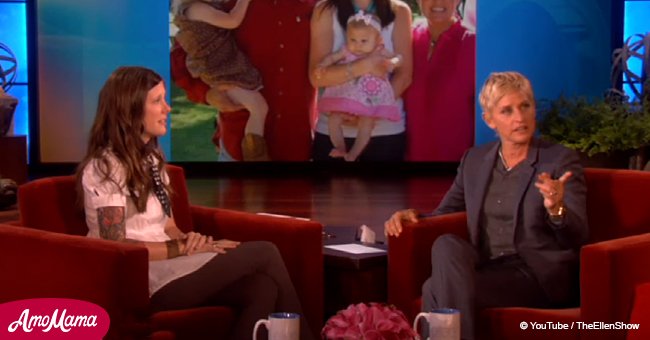 Deaf mom couldn't hear for 29 years. But Ellen DeGeneres surprises her with a huge gift
A woman could hear for the first time in her life, thanks to her mother-in-law.
Share Tap reported that Sarah Churman, who had been born deaf, appeared on The Ellen DeGeneres Show and was surprised by the host's gesture.
She had lived all her life without hearing a single sound. She had not heard her husband say "I love you," nor had she heard her oldest daughter's first words.
Sarah then learned about a new implant that could help her listen to her children laughing, the birds chirping, and as she joked, listen to her husband snoring
However, there was one obstacle – the technology came with a heavy price tag. Sarah and her husband could not afford it. The implant would cost $30,000 per ear which made it difficult for the family to buy one.
The couple desperately looked for ways to make it happen but did not find a way to budget for it. They were in for a surprise by Sarah's mother-in-law, Larry.
She offered to buy one for Sarah. The family knew that she was taking the money out of her retirement account. Larry knew just how much it meant for Sarah to hear her children's voices.
Just eight days after the procedure, Sarah appeared on The Ellen Show. She revealed that she was born without the hairs which absorb sound waves and pass it on to the brain. A cochlear implant filled this gap for her and she was able to hear the sounds clearly.
DeGeneres introduced the family to the audience. Sarah's mother-in-law insisted that she was "the best daughter-in-law in the world."
However, what the family was unaware was that DeGeneres had a surprise awaiting them.
The host had a gift from Envoy Medical Corporation, the company that supplied Sarah with the implant. The company had decided to give Sarah the next procedure for free and also decided to give the family their $30,000 back.
The three could not believe what they just saw. Tears started rolling down Sarah's cheeks as she hugged her mother-in-law and her husband. The trio thanked DeGeneres for the incredible gift they just received.
Please fill in your e-mail so we can share with you our top stories!