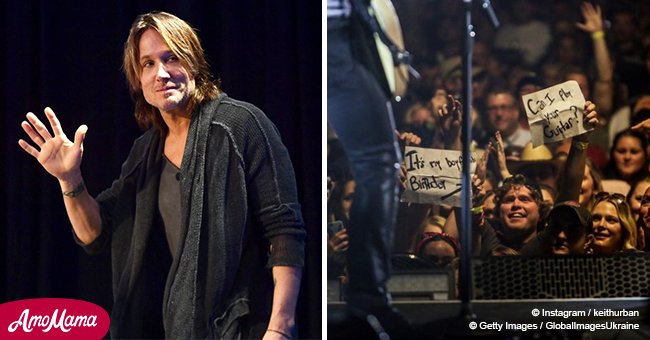 Keith Urban invited a fan on stage. Then the guy played guitar and even Urban was surprised
When the country musician saw the sign from the stage, he wondered how his next move would unfold, but decided to give it a go anyway.
In a 2016 concert, Keith Urban was enjoying his performance in Gilford, New Hampshire, when he saw a couple standing in the audience holding up signs.
The photo Urban shared to his Instagram account showed two signs: the man was holding a sign that read "can I play your guitar?" while his girlfriend's sign shared that it was the young man's birthday.
After confirming that the man, who identified himself as Rob Joyce, can actually play the guitar, Urban invited him up on stage to have a go.
His girlfriend, Lex, started talking him up to the artist, saying that she thought he should be Urban's backup guitarist.
Urban then proceeded to take the guitar off his own back and hand it to Joyce, who immediately shocked the New Zealander with his impressive skills.
Impressed by his unexpected band member's guitar playing, Urban decided to launch into another one of his tunes, Good Thing, allowing Joyce to show off even more with the song's difficult guitar riffs.
It seemed that Joyce had no difficulty in keeping up with Urban and the rest of the band, even at some points looking like he was singing a harmony throughout the song.
"Killed it! He totally killed it! That was badass, man," Urban yelled to the crowd after the performance.
Urban also later took to his Facebook page to share a video, thanking the crowd for coming out to see him, and offering a special shoutout to Joyce for his unexpected performance as well.
Please fill in your e-mail so we can share with you our top stories!