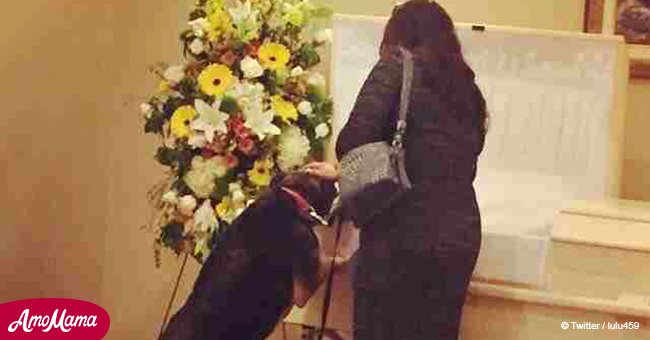 Grieving dog attends funeral of owner who died suddenly
A dog was left devastated when her human best friend passed away without warning.
When Andy Beaulieu succumbed to a heart attack, his pet, Sadie, immediately showed signs of grief.
Sadie, a 13-year-old Border collie-Dalmatian-shepherd mix, was putting her head on her loyal companion's hand and tried to nuzzle him.
"Once they stopped working around him, she came and she laid with him and pushed at his hand almost as if to get him pet her," Andy's wife, Julia, recalled in an interview with Global News.
"She was daddy's girl - she was his and he was hers," Julia added.
Sadie was in so much grief that she didn't eat for 10 days. She lost 10 pounds in the process.
During the memorial service, people were moved when Sadie stood to see her human best friend for the last time.
Julia said she was worried about Sadie's health that she thought letting her see Andy inside the coffin would help her cope with his passing.
Julia let the loyal dog stand up and look in the casket.
"She had almost a look of shock on her face. She stood there... and was quite puzzled by it and she just seemed to relax and just stood there with me," Julia recounted.
Jeremy May, CEO of Elements Cremation, took a photo of the heart-wrenching moment.
"It really showed the connection between humans and their pets and how tight it is," he said.
Julia said the photo brings her comfort. She is also relieved that Sadie resumed eating after the memorial service.
Dogs and humans have a special chemistry that goes back many tens of thousands of years.
As reported by Psychology Today, a research by John Archer of the University of Central Lancashire shows that about 40 percent of owners identify their dog as a family member. This reflects social compatibility between the two species.
Please fill in your e-mail so we can share with you our top stories!