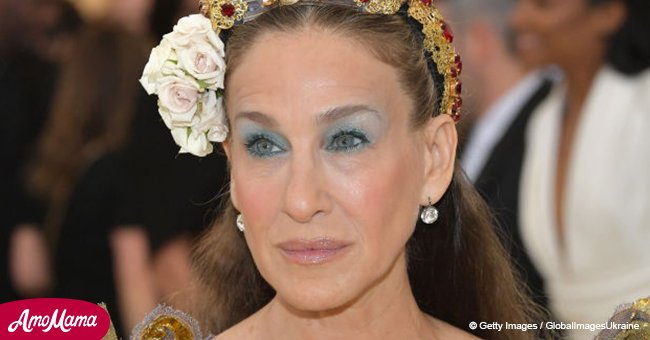 Sarah Jessica Parker mocked for her recent appearance at Met Gala
Sarah Jessica Parker is considered to be one of the most iconic names in entertainment history, but the star didn't spark very brightly at the 2018 Met Gala.
The 53-year-old attended the event, which took place on Monday, May 7, 2018, wearing a very peculiar golden outfit that was among the most unique ones of the night.
But, although her Dolce & Gabbana dress resembled a mixture of a cleric robe and a battle armor, especially across the chest area, her face stirred up quite a discussion on Twitter.
The actress has always been known for taking good care of herself, a trait that was shared by the most famous character she ever played - Carrie Bradshaw from Sex and the City.
But unlike Bradshaw, not everything can be solved by getting a new pair of expensive shoes. When the first photos of the Met Gala hit the internet, people immediately noticed that there was something odd about the actress.
Parker seemed to have aged considerably.Akhona, a Twitter user, pointed out that the former Sex and the City star looked like she was 100 years old. Other people, such as AlleyKat and Ken Xenia agreed with Akhona.
Whether it was because of the poor choice of make-up or lack of a good night of sleep, the truth is that Parker's face seemed to be to be very dry and wrinkly for someone her age.
Yet, among all the people who took a shot at the 53-year-old, there were a couple who stood up for her. Jackson Grey argued that Parker deserved to be respected because everyone becomes old at some point.
V. Del Rossi agreed that the actress might not be aging well, but she that she spread quite a lot of glamour even in her late 30s, and that she's still one of the most knowledgeable women when it comes to fashion.
Parker was an avid smoker was a smoker for many years, which would explain why she looks so much older than people remember. According to the Mayo Clinic, nicotine promotes premature aging by reducing blood flow.
With a lower blood flow, the skin tends to dry and wrinkle at a much faster rate. Many people in how business learned that smoking boosted their metabolism and suppressed their appetite, but not without a cost.
Please fill in your e-mail so we can share with you our top stories!