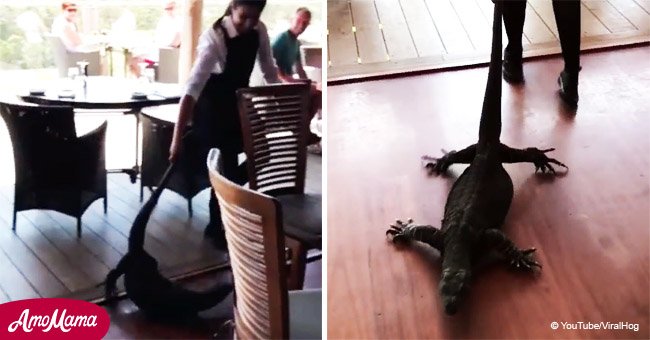 Waitress responds to screaming diners to find a 'monster' goanna
A French waitress named Samia Lila saved the customers of a restaurant by dragging a massive lizard that was wandering around the tables by its tail.
It all happened in 2017, around summer time. The Mimosa Winery's restaurant, located in Bermagui, Australia, was full of customers eagerly waiting for their food.
But, instead of a delicious course, they got the scare of their lives after noticing the giant goanna slithering between their legs. Fortunately, Lila stepped up to the challenge and her actions ended up on Facebook.
The young waitress was minding her own business, taking care of orders, when a customer, who is yet to be identified, grabbed her wrist and pointed at the scaly visitor.
According to Lila, she didn't immediately recognize the problem and even admitted that, at first, she thought that a dog had gotten into the restaurant, something that had previously happened.
When Lila realized what it was, she didn't know how to react. The goanna, a member of the monitor lizards family, was peacefully crawling under the tables as if it was looking around.
A relative of the fierce Komodo dragon goannas are not dangerous to humans, but it is advisable not to interact with them given their sharp set of teeth and powerful tail, which they can swat at high speeds.
Most customers started screaming after noticing the huge reptilian, including Lila, who grabbed a chair and placed it in front of the animal in order to buy some time.
The 25-year-old did the only thing that popped into her head: she grabbed the goanna by its long tail and dragged it across the restaurant to the veranda, past all the scared customers.
Later, Lila confessed that she wasn't scared since she loved reptilians, but that she didn't expect to find one at work. The waitress had only been in Australia since November, working under her Working Holiday Visa.
Please fill in your e-mail so we can share with you our top stories!