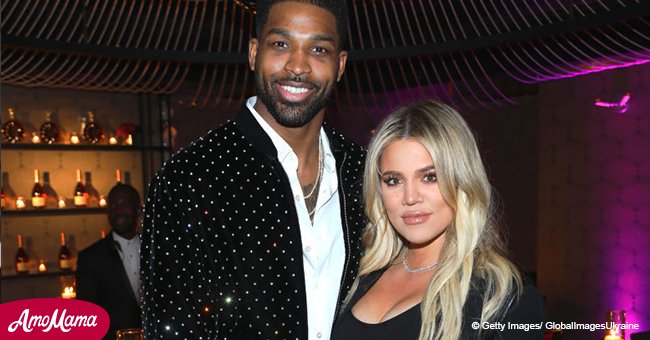 Khloe Kardashian and Tristan Thompson are spotted on a movie date amid recent cheating scandal
A month after welcoming a baby girl to the world, Khloe was spotted out and about with Tristan Thompson. The couple has been dealing with negative publicity for over three weeks now and this sighting communicates Khloe's decision to stay.
On Wednesday, photos emerged of Khloe Kardashian going to the movies with Tristan Thompson. This comes after a month of speculation of whether the reality TV star would stay with the basketballer who was caught in camera with other women.
As the Daily Mail reports, this instance is not the first when Khloe was spotted with Tristan. A week ago, she showed up at one of his games, an act that communicated her decision to forgive him for infidelity.
On this outing, the Revenge Body star was in comfortable Yeezy running shoes, a pair of black tights, and a green camo jacket tied around her waist. She also carried a cute YSL backpack. Tristan wore a black hoodie, cap with white socks and furry Gucci slides.
Although Khloe never communicated her decision to forgive Tristan, her actions from early on showed that she was likely to choose family over anything else. A source told E! News that the pair was "trying very hard to repair the relationship since True was born." The insider further said that the three were a unit and were living in the same house.
"He has fully moved back in and they are a family. He made a promise to Khloe and it was enough for her to take him back. She can't imagine being a single mom and giving up her dream life she had planned with Tristan. People make mistakes and she has found it in her heart to forgive him. He has vowed to change and she feels that he has learned his lesson. All eyes will be on him and he doesn't want to ever let Khloe down again. Khloe doesn't care what anyone thinks about what's she's doing. It's her life and this was her decision and only her decision. That's all that matters."
The decision to stay and make things work must have been hard for the Kardashians who had made it clear that they were not going to deal with Tristan's cheating. However, TMZ reported that the family was respectful of Khloe's decision and would remain civil for her sake.
How do you feel about Khloe letting Tristan back in her life? Tell us in comments.
Please fill in your e-mail so we can share with you our top stories!