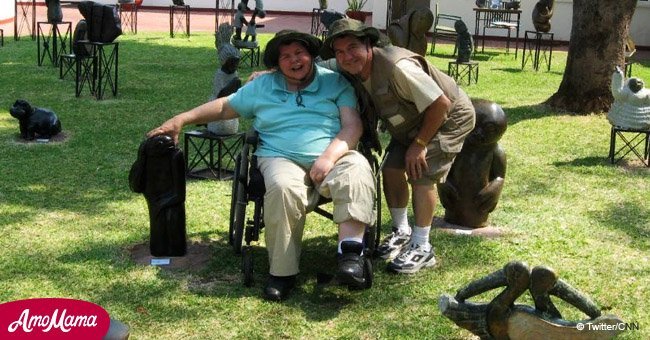 Doctor suggested putting his wife in a nursing home, instead they travel the world
The Fierlit couple continues to defy the odds by traveling around the world despite their major setback.
After Donna Fierlit was diagnosed with a brain aneurysm 27 years ago, her husband, Andy Fierlit, vowed to make her life more than ordinary. So, despite the suggestions of the doctors about putting her in a nursing, Andy decided to travel the world with his wife.
According to CNN, Andy then 'embarked on a mission' to show Donna the world. Together, they have been traveling ever since and so far visited all the seven continents and more than 20 countries.
Due to her condition, Donna now needs a wheelchair as she is partially paralyzed, and Andy pushed her around the places as the couple continues to make their inspiring journey across the world.
"I made a promise to her that we would go on to work out as best a life as possible," the online source quoted Andy as revealing.
Donna has also begun to suffer from short-term memory loss and she heavily relies on Andy for completing even the simplest of daily tasks. She remains in her wheelchair most of the time. But no setback has ever proved too much for the loving couple.
Andy and Donna met each other 58 years ago at a church dance and it was Andy who wanted to marry her. It took only a couple of dates for Donna to agree. They married five years later and have been dealing with the problems that life throws at them together.
The source further informed that the couple has named Donna's wheelchair after Tina Turner's song, Proud Mary, as the wheel 'keeps on rolling' along with Andy and Donna's determination.
Andy admitted to CNN that they have definitely faced a lot of challenged during their travels but with proper planning, they have been able to solve them.
Please fill in your e-mail so we can share with you our top stories!