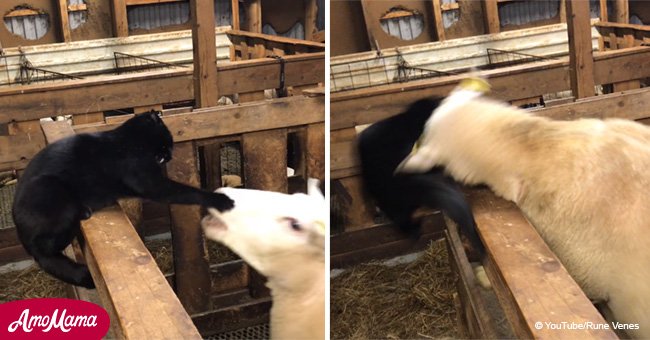 Cat learns a valuable lesson after picking fight with sheep
A hilarious video involving a cat and a sheep has gone viral.
The short clip, running one minute and 21 seconds, shows a cat seemingly harassing a group of sheep in the latter's den.
The video, shared on YouTube by a certain Rune Venes, shows the cat precariously walking on the edge of the den for some reason.
He sneers at the mother sheep when the latter tries to drive him away. The cat seems to think he owns the place, not minding the bothered sheep. It certainly isn't the cat's territory.
But the mean intruder even bares his teeth as if trying to scare the sheep. At one point he violently pawed the sheep's head.
Then the mother sheep decides she has had enough. Just as the naughty cat turns his back on her, he pushes her off the wooden platform with her head.
The cat is thrown to the ground and seems to have scurried off right after tasting the sheep's mighty revenge. The bully is not seen in the clip afterward.
Since it was posted on May 1, 2017, the video, which is titled 'Sheep gets revenge on cat', has been viewed more than 1 million times.
Most netizens who have watched the video seemed satisfied by the way the sheep took her revenge.
'No, the sheep was hurt, from cat's claws and bites. But in the end, the sheep got the last laugh,' commented Howardu Grad
Another netizen expressed concern about the two animals.
'Aw, poor cat! They got what they deserved, but I still feel bad, they got it worse than the sheep, are they ok?' commented YouTube user We The Animals!
Please fill in your e-mail so we can share with you our top stories!