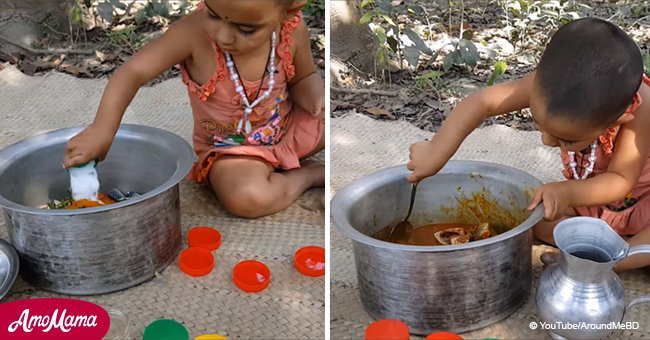 This 3-year-old might just be the next celebrity chef
It is hard to believe how she manages to prepare even the most complicated of dishes at such a young age.
A video uploaded to YouTube by AroundMeBD showed the exceptional cooking skills of a 3-year-old girl, Sneyha, who is seen preparing fish delicacies all by herself.
In the video, she is seen preparing the tasty Hilsa/Elish fish curry during a picnic and serving it to other children of her age.
At first glance, viewers might be forgiven for thinking that the child is playing with some cooking toy set. But, before long, it becomes obvious that she is on to cooking a real delicacy.
Sneyha gets a little help from her little friend in cleaning the fish at first. Then she is seen putting up the cut-up pieces of fish into another container with water. There she thoroughly cleans the small pieces of fish.
Then she has a range of spices lined up in small bottles in front of her. She pours all the pieces of fish into another big container and adds some green chilies.
Then goes in other various spices including coriander powder, cumin, red chili powder, and turmeric powder. She finally adds salt and pours down some oil into the mix. She stirs the fish well with all the components added and puts the container on a local stove.
She also burns the fire and allows the fish to cook for a long time. Soon, the cooking pot begins to boil and the fish is ready.
The little girl then serves each of her friends a plateful of the delicious fish that she prepared with her own effort.
Sneyha is quite popular because of her cooking skills as the video channel wrote on their profile that she is 'the most common girl' on their channel and her video receive many comments. In another video, she is even seen cooking a big Wallago Catfish curry.
Please fill in your e-mail so we can share with you our top stories!