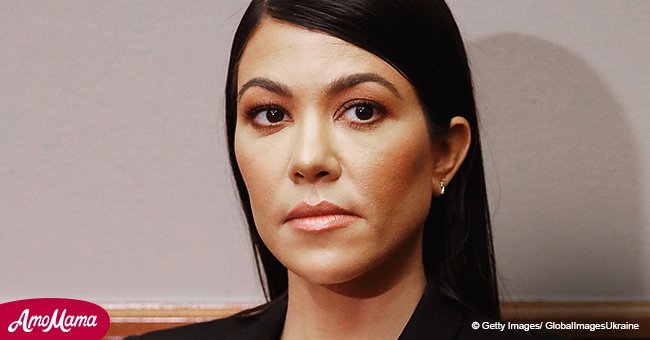 Kourtney Kardashian is weighing in at a scrawny 98 pounds in new photos according to RadarOnline
RadarOnline has reported that Kourtney Kardashian weighs a skinny 98 pounds and reportedly wants to lose another ten pounds, but her beau begged her not to.
In a report from RadarOnline, the reality star has been trying new things lately, which includes doing more nude photo shoots such as the one she did for V Magazine for the KOURT x KYLIE cosmetics collaboration. She said:
"I think this shoot, using my collab with Kylie, was the perfect situation to try some new stuff."
To look good naked, the mom-of-three drastically changed her lifestyle even though she already looks young and slender for her age. Kourtney is 39 years old and will turn the big 4-0 next year but she weighs only 98 lbs.
According to friends and as she revealed on her site KourtneyKardashian.com, she "takes collagen supplements, daily probiotic shots and apple cider vinegar, which she believes speeds up metabolism, and everything is twice a day."
A source also said that she is "obsessed with portion control" and eating only "clean food. Also reported from Daily Mail, she also wrote on her site:
"At the moment, I'm all about everything in moderation."
"First thing every morning, I take collagen supplements mixed with a glass of water. I also try to drink a lot of water throughout the day—especially during my workout. Then, I have my morning smoothie with added supplements like bone broth protein powder, MCT oil and E3Live algae."
She also admitted that she tries to drink a gallon of water every day and exercises three hours a day. The health enthusiast's routine is not making everyone happy though because it has made her look frail.
Kourtney Kardashian's boyfriend, model Younes Bendjima supposedly pleaded with her to put some weight on. The source disclosed that Younes allegedly wants her to "have more curves, but she's just gone nuts and doesn't know when to stop."
Please fill in your e-mail so we can share with you our top stories!