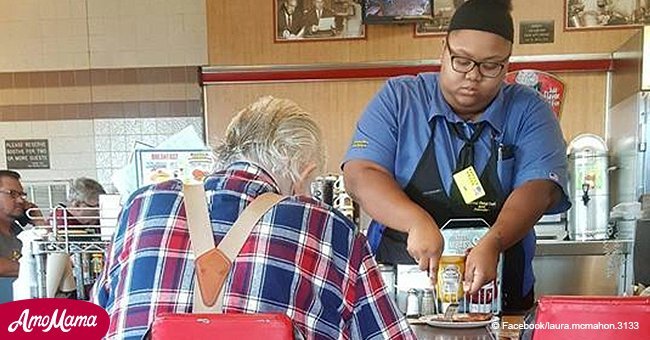 Waitress received scholarship after helping elderly man cut up his food

Evoni Williams received a scholarship after a photo of her helping an elderly customer has gone viral.
On March 3, 2018, the 18-year-old was caught in the act cutting up food for her customer at a Waffle House in La Marque, where she is working as a waitress.
Her act of kindness has captured the Internet's heart and she was rewarded with a sweet surprise by the City of La Marque, as reported by KHOU 11.
The Galveston teen, who is hoping to save up for college, received a $16,000 scholarship donated by Texas Southern University.
The university has assigned a counselor who will assist Williams to enroll and begin her degree plan. She wants to study business management.
Williams recently met an old costumer named Adrien Charpentier, who was having a hard time cutting up his meat. The 78-year-old man then asked for help.
"He was like, 'My hands are not functioning too well.' He needed me to cut his food. And I did," Williams told KHOU 11.
Little did she know that they were being watched by another customer named Laura Wolf.
Wolf decided to take a photo of Williams while cutting up food for her customer and shared it on her personal Facebook account.
"I don't know her name but I heard this elderly man tell her his hands don't work too good. He was also on oxygen and struggling to breathe," she wrote.
Wolf added: "Without hesitation, she took his plate and began cutting up his ham. This may seem small but to him, I'm sure it was huge."
She continued that she's very grateful to have witnessed such a good deed at the start of her day "while everything in this world seems so negative."
"If we could all be like this waitress & take time to offer a helping hand," Wolf concluded.
The photo quickly went viral, with more than 87 thousand likes and 73 thousand shares. Many Facebook users also commended her sweet gesture.
Williams insisted that she did nothing special and that it's something she would do any other day, according to KHOU 11.
Please fill in your e-mail so we can share with you our top stories!