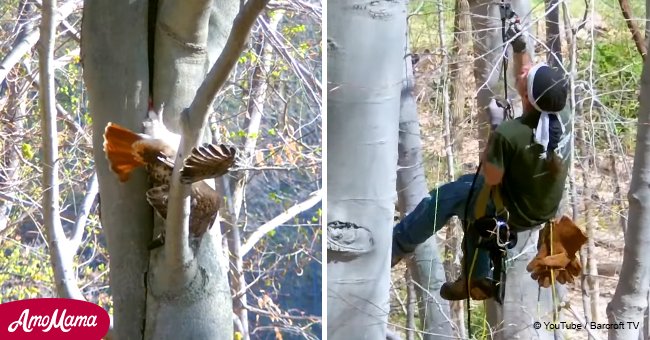 Footage shows daring moment rescuer saves a hawk stuck in a tree
The kind-hearted individuals sprang to action when they saw a hawk needing help.
In a video shared on YouTube by Barcroft TV, a hawk can be seen getting trapped upside down in a tree. The hawk's leg was stuck within the crux of the trunk.
The video shows the red-tailed large bird flapping helplessly 60ft in the air.
The rescuers from A Place Called Hope sanctuary immediately responded to the call to help the distressed animal.
The sanctuary in Killingworth, Connecticut was founded by husband and wife Todd Secki and Christine Cummings.
The hawk had been trapped for 16 hours by the time the rescuers got there. It seemed to be suffering from exhaustion.
"You get the feeling that these animals know that we are here to help," Todd said. "Once they realize you're not a predator and you're not going to hurt them they relax and calm down."
After the male hawk was rescued, the rescuers gave him pain relief and fluids to rehydrate. Then they brought him to the sanctuary for further checking.
They found out that the hawk's leg was injured. The staff then spent so much time to check his organs.
"He is very lucky to alive considering the damage he could have done to his leg, its tendons and foot," Christine said. "Everything is functioning the foot works."
After spending two days being cared for by A Place Called Hope, the hawk was released.
It is believed that the hawk had a family waiting for him in a nest somewhere.
Since it was posted on June 11, 2015, the video, which is titled 'Trapped Hawk Down: Bird Of Prey Released After Being Caught In Tree', has been viewed more than 39,869 times.
Most YouTubers who have watched the video commended the rescuer's act of kindness.
Arsh commented: "Great to see people help out like this."
Please fill in your e-mail so we can share with you our top stories!