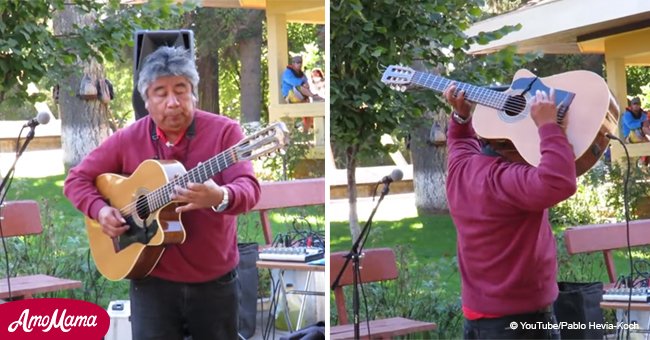 Classical guitarist shows off incredible talent in a plaza
This elderly gentleman looked quite ordinary as he picked up the guitar. But when he began to play, his audience was shocked.
A tourist in the city of Canete, Chile, was passing by when he saw an unnamed man performing in the streets. He stopped to listen, and couldn't believe the talent he had stumbled across.
In the video shared by the tourist, Pablo Hevia-Koch, to YouTube, the gentleman, wearing sweatpants, a hoodie, and a pair of trainers, looked fairly average as he started a piece of music on his computer.
As he starts to play, it's clear there is so much more to him than meets the eye.
From the very first chord he is mesmerizing to watch, playing guitar riffs with immense speed and accuracy, creating a beautiful tune.
At one point he doesn't even appear to be holding onto the guitar's neck as he plays the notes.
But his performance became even more impressive when he suddenly turned around. Lifting the guitar over his head facing away from him, he rested the instrument against his neck, and continued to play absolutely flawlessly!
By this point a large crowd had amassed to watch his impressive performance. At the end of it, the entire audience applauded his incredible performance.
Please fill in your e-mail so we can share with you our top stories!