La Toya Jackson puts on a very busty display in a plunging black leather gown
La Toya Jackson turned heads as she wore a plunging black leather gown with a thigh-high slit at the red carpet for the Cannes Film Festival premiere of Burning. She may be 62 years old but the singer still looks young.
The sister of the late King of Pop strutted down the red carpet that led to the Palais des Festivals on Wednesday evening and stunned everyone with her sensational dress. AmoMama gives to you more details from Daily Mail.
The black sleeveless leather dress featured sparkling gold embellishments that matched the belt around her waist. The dress did not only showed off her ample cleavage but it also flaunted her pins with the slit and her tiny waist as the jeweled belt cinched her tiny waist well.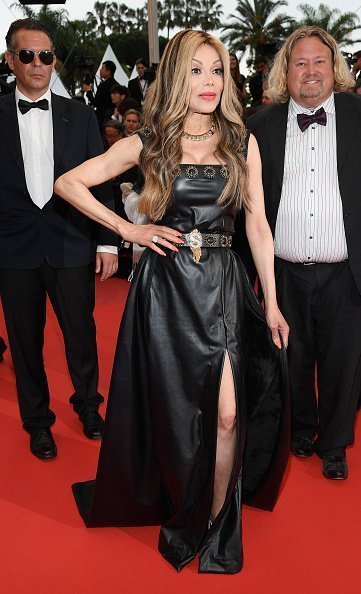 Her uniquely beautiful dress also had a long train that a handler had to constantly adjust it and keep it in place. She matched her dress with a pair of glittering silver and gold heels as well as a thick gold statement necklace, diamond rings, and earrings.
La Toya's blonde-streaked locks were styled in bold waves that cascaded down to her torso. The Indiana native went for a glamorous look in a palette of makeup and a dab of pink lipstick.
The aunt of model, Paris Jackson, revealed last month that her late brother, Michael Jackson asked her to "watch over" his daughter, 20-year-old Paris. She told Entertainment Tonight:
"He used to say things before [he died]… 'Okay, if something happens to me, make sure you watch over Paris, 'cause Paris has a personality. She loves the business, but I wanna make sure she's okay."
La Toya had good words for Paris. She said:
"She has a heart like her father. She has a good heart, which is really really, really great because that's hard to find…it's hard to find in today's society, in this world that we live in.