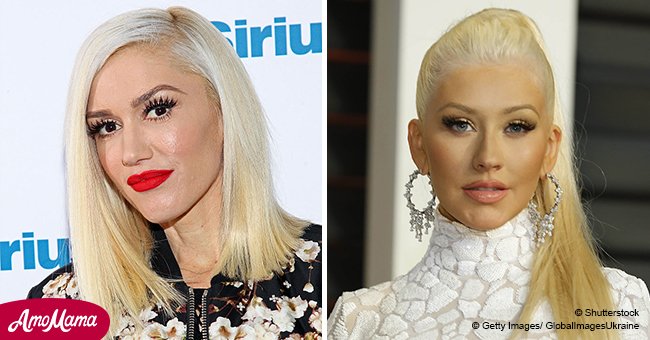 Christina Aguilera breaks silence on rumored feud with Gwen Stefani after leaving 'The Voice'
Christina Aguilera left The Voice in 2016 and almost immediately there were rumors of a feud with Gwen Stefani. Aguilera, who never addressed the rumor before sets the record straight in a recent interview.
It's been a long time since we heard from Christina Aguilera. Too long, maybe, that a fan left a sticky note on her Hall of Fame star, asking; "Dear Christina Aguilera, where the f*** is the new album?" The singer replied in her usual charm; "It's coming, b--ches...." And it actually did come albeit in bits. In early May, Aguilera released her single featuring Demi Lovato, Fall in Line, off the album Liberation. As usual, her soulful voice takes us back to the days of her evergreen single, The Voice Within.
Speaking of The Voice, the star hasn't left her post in 2016, and the conclusion by most people was that she couldn't stand the Gwen Stefani and Shelton Blake's PDA. While speaking to W Magazine, the singer refuted the rumor, saying she had been advocating for more female judges for the longest time.
"No, it never had anything to do with any one person at all. And I actually think it's really cute Blake and Gwen found love in that chaotic environment. …I fought for a long time to get two females in the chairs. And, for a long time, I was just told it wasn't the demographic. But just know that I was a fighter behind the scenes."
Asked why she left the show, Aguilera said she needed to get back to things that she loved. "I signed on to a show where the blind audition element was something interesting, something genuine. After a while, though, you start to see that everyone is good-looking. It wasn't a comfortable place for me to be, where I'm just part of a money-making machine. When I stop believing in something, then it's like, What am I doing here? I think I did choose to, no pun intended, take a chair for so long and do something very commercial for my little ones. But at a certain point I felt like I'm not even doing them a service by cheating myself and what I'm here to do. They should be seeing Mommy live her best life."
So, there you have it. Aguilera did not leave The Voice as a result of a feud with either Gwen, Levine, Shelton, Green or anyone else there, but for her personal reasons. Like bringing us new soulful music!
Listen to her new single and let us know what you think.
Please fill in your e-mail so we can share with you our top stories!