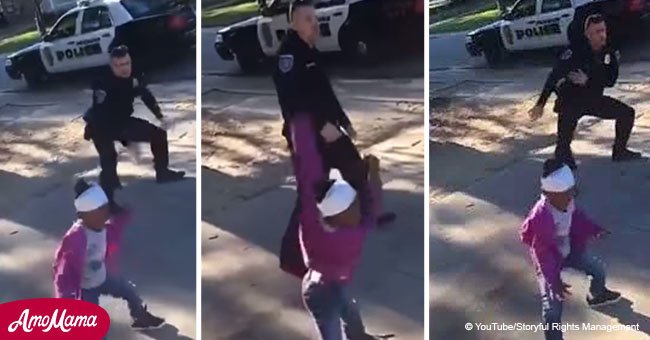 Police officer challenged 5-year-old girl to dance-off
Police officers are not always as serious as they might appear.
Prichard Police Officer Casey Chumney proved that cops are also fun-loving creatures.
In a viral Facebook video, Chumney is seen dancing with a little girl.
Five-year-old Armani Tripp accepted the police officer's challenge. A woman named Marshae White captured the dance-off on video.
'He made me feel like all police aren't bad. He pulled up and got out, played with the kids, asked about school and decided to challenge them in a dance contest,' White captioned the video on Facebook.
The 30-second clip shows the officer giving his best while Armani also went all-out.
Police officers have often been pictured as serious and stern. With stories of police brutality also in the news, the police's image has suffered a bit in recent years.
Chumney has shown that police officers can also shared fun moments with the citizens.
The hilarious video, posted to Facebook seven months ago, has been viewed 210,000 times. It has also been shared 4,600 times.
Chumney is not the only police officer who caught global attention for dancing in a video.
In April 2018, Police Officer Michael Ampthor from Chattanooga Tennesse also show off his 'lanky leg' dance moves during an Easter egg hunt.
Posted two months ago on Facebook, the video has been viewed over half a million times.
'What I love most about work! Chattanooga Police Department officers dancing it out with the communty!' wrote Amber Worthy, who posted the video. The video has been shared 13,000 times.
More recently, a police officer in UK charmed the world when he dance for the crowds on the day of Prince Harry and Meghan Markle's wedding.
PC Jake Freeman danced after some prodding from the crowd who gathered behind the barrier in Windsor.
He received loud cheers from the crowd.
"I think it's great that we can have the opportunity to engage with the public like that and just have some fun on a very special day," BBC quoted him as saying.
Please fill in your e-mail so we can share with you our top stories!