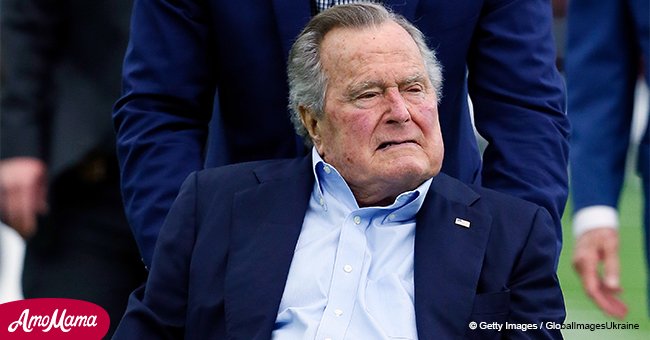 Former President George H.W. Bush arrived at his summer home
Many lined the streets to welcome former President George H.W. Bush, who returned to Kennebunkport, for the first time after his wife's death.
Bush's spokesman, Jim McGrath, posted a photo on Twitter of the former head of state arriving in the coastal town in southern Maine.
It was for the first time in 73 years that Bush did not have his wife by his side when he returned to his summer home. Barbara Bush passed away in April 2018, aged 92.
Hundreds of people were present on the streets waving American flags to greet the former president. Bush waved to his supporters out of a passenger-side window.
"it's where he's spent every summer except 1944. The bonds run deep. He couldn't be happier to be here. Maine is good for his soul."
The 41st President's son, former Florida Governor. Jeb Bush, also shared a photo of his father smiling.
Maine politicians also extended a warm welcome to Bush on social media. Sen. Susan Collins took to Twitter and said that it was great to have him back in town.
Rep. Chellie Pingree wrote, 'We're so happy you're back for another summer.'
After the sad demise of his wife and her funeral in Texas, Bush spent about two weeks in a hospital. On May 19, he got a chance to see the hit Broadway musical Hamilton, a wish the couple shared.
He took to Twitter to say that he watched the performance with some friends and family members. He also praised the production's 'epic story and performance.'
Speaking to Press Herald, McGrath said that Bush and his wife, Barbara, spent May to October in Maine and that they have always loved the people there.
He added that the location was also perfect for family gatherings at the Walker's Point Compound. The place also holds a special place for Bush as it was here that he was secretly engaged to Barbara in 1943. The couple then married on January 6, 1945, in New York.
Please fill in your e-mail so we can share with you our top stories!