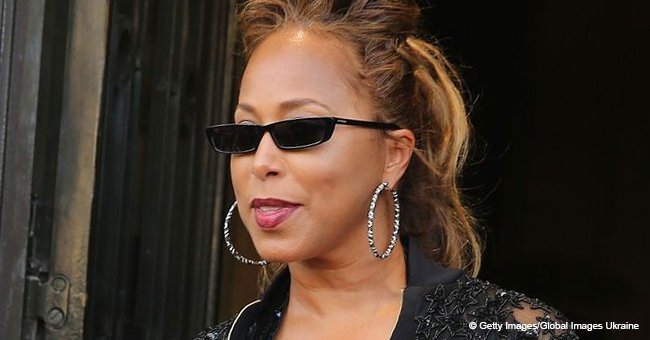 Marjorie Harvey claps back at critic after being shamed for not buying her parents 'bigger' house

A few days ago, Marjorie Harvey posted a photo of her at her parents' home and some fan felt it wasn't good enough for them based on Marjorie's repute. Naturally, the not-so fan aired her thoughts freely, but Marjorie's classy clap-back silenced her and any other troll.
Marjorie Harvey, wife of Steve Harvey, loves the good life that she and her husband have earned. However, they both came from humble beginnings and have never shied away from acknowledging that. Over the weekend, Mrs. Harvey went back to Memphis to visit her parents and she took photos of her at home relaxing with her parents. One of the photos that she captioned The Stoop show her at the front of a modest house relaxed and looking content. Well, trolls didn't care about the authenticity of the image but rather tore at her for not building her parents a bigger house.
Mrs. Harvey did not respond immediately but she did after a while. She reminded the trolls that the value of a house is not the physical building, but the people that live in it.
"I started to just block you for the ignorant comment but I decided to respond. First off I take excellent care of my parents and would buy them any house of their dreams. However, my father is proud and absolutely loves the house that he built for his family and could not dream of living anywhere else. I would never insult my parents by telling them it's not good enough. It's the house that my brother and I were raised. Will always be a part of who I am. I'm grateful and proud of it. God blessed you."
Lots of Instagram fans found her answer classy and cheered her on in her zeal for authenticity. One commenter, prettyizsheprep, said: One of the best feelings is being home. Every creek in the floor tells a story. Some people may see a house , which is very different from a home." Others expressed similar sentiments – their parents would never allow them to tear down a lifetime of memories in the name of a bigger house.
What are your thoughts on trolls and Mrs. Harvey's response? Tell us in comments.
Please fill in your e-mail so we can share with you our top stories!