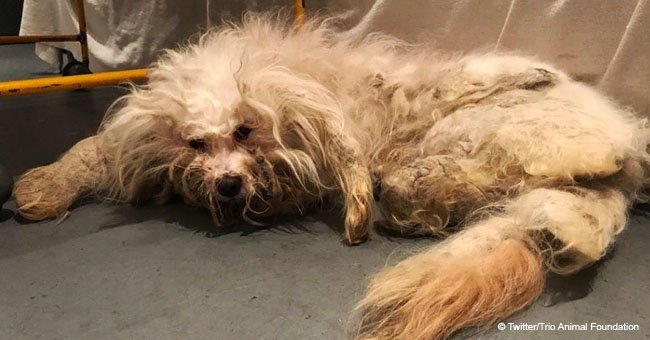 Abandoned dog with matted fur received a complete makeover
The dog finally received the attention that she deserved under an expert care and got a new, transformed look.
Trio Animal Foundation in Chicago, Illinois took to Facebook to share the story of a Maltese-poodle mix dog named Holland, who was dropped off at an animal shelter in a miserable condition.
The dog was encased in it its own matter fur and required immediate attention from the experts to ease her irritation and suffering.
The animal shelter then called the Chicago-based animal foundation, which immediately agreed to take Holland under its care. Once they had done this, the biggest challenge for them was to get the dog out of its 'vice like matted fur that encased her body.'
The social media post from the foundation revealed that the shell-like casing of Holland's matted fur covered most of her back, giving it the appearance of some kind of 'exoskeleton from behind.'
Cutting down her fur proved to be a bigger struggle for the experts because grooming scissors could only cut through the thinnest layers of dreadlocks around Holland's eyes and face
The vets finally decided to sedate the dog so that they could provide the proper treatment as well as shave her fur without making her irritated. They did not want to further increase the discomfort that the entangled fur had caused Holland.
After sedating Holland, the vets began to shave the dog and even used scalpel on several occasions to get through the thick layer of entangled fur.
'This was the only safe way to free her from the prison of her own fur,' the Facebook post from the animal foundation explained.
They also revealed that the shaving procedure continued for two long hours as the vets tried to clear the matted fur that completely covered Holland's body.
Despite her irritated skin caused by the unmanaged and unkempt fur, the vets found that Holland was completely healthy.
Please fill in your e-mail so we can share with you our top stories!