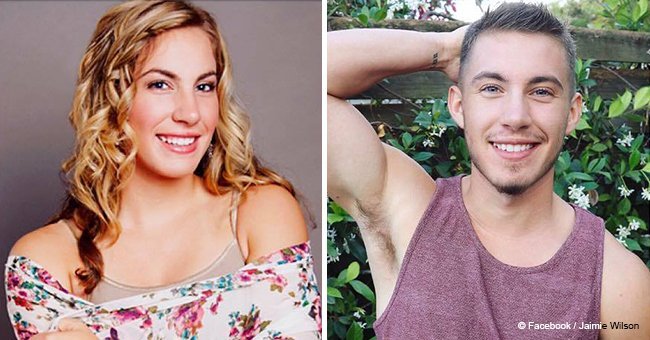 Transgender man Jaimie Wilson shared before-and-after photos
The guitar-wielding transgender activist, Jaimie Wilson, has shared the journey of his transformation on social media.
The New York Times reported that the 22-year-old, a budding musician, even started a cloth-swapping program for other transgenders.
Originally from Howell, Michigan, Wilson now lives in a two-bedroom apartment in the East Village of Manhattan.
The model appeared on the cover of Candy Magazine and also been part of a campaign by men's fashion brand, 2(X)IST.
Wilson, who aspires to make a mark as a folk-pop musician, is an outspoken transgender man and is followed by thousands of people on Facebook and Instagram.
He posted before-and-after photos of his transition on the social networking site. The pictures quickly became viral and garnered over 13 million views.
Celebrities could not resist praising the young artist with actress Ruby Rose commenting that he was 'looking like a young Channing Tatum,' while rapper Lil Wayne wrote 'Wow.'
Wilson believes in the power of music and says that it can bring people closer in a community
Speaking about his own musical journey, he said that people began taking notice of his talent after his transition. He found it strange as he had to practice hard to regain his "singing voice" as his vocal cords had changed in the process.
In 2015, Wilson began a program for transitioning men and women called T Is for Trans, a cloth-swapping initiative. However, he had to shut shop when he moved to New York.
He revealed that he is still involved with the program and gives away chest binders, compression garments that reduce the appearance of female breasts. He uses his Instagram account to help those short of funds during their transition.
Wilson believes that clothing should be the last on the mind when one is spending most of their resources on hormones and surgeries.
Earlier this year, the artist also released his first EP, Life Is a Journey, that was funded on Kickstarter. With appearances in Sziget Festival in Budapest last year, alongside Pink and the Chainsmokers, he is raring to go.
He is currently working on his first official music video, while he continues to hit the road.
Wilson revealed that though there had been an outpouring of support about his new identity, there were also many detractors. He had to deal with people telling him he cannot be transgender because he 'was such a pretty girl' or because he did not show the signs.
He now believes that despite what one looks like or how people view the person, each one can do whatever they want.
Please fill in your e-mail so we can share with you our top stories!